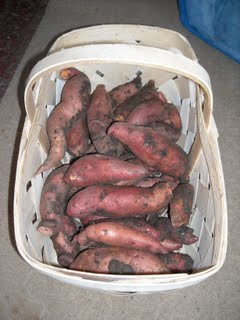 Last year, Dave and I cut up some sweet potatoes and planted the pieces in one of our garden beds. We were very excited at the end of summer to dig up our hopefully large, robust sweet potatoes. Well, when we dug them up, about the only thing they were good for was to use as replacement shoe strings 🙁 We sort of gave up after that and planted turnips in that garden bed this year. About half way through summer, we started to see these weird green leaves coming from the turnip bed; and by the end of summer, the leaves had taken over the entire bed. Go figure, the sweet potatoes from last year had been growing and had really taken off. The picture above is our yield! For reference, the larger ones are at least 6-7″ long. What a blessing to have this unexpected crop of good lookin' sweet potatoes.
(I was so inspired about it, I'm writing the sequel to the children's book "Green Eggs and Ham" entitled "Sam I Yam"…….and I'm also waiting to hear back from the Broadway producers regarding my musical remake of "Anna and the King of SiYAM." Hmmmmm, not sure why I haven't heard back from them yet. Another musical I've pitched is "Yamalot." Then there's my nursery rhyme "Mary Had a Little Yam"…..I got a million of 'em folks…well, four anyway…….<tap, tap>…um, is this thing on?)
I was excited to start using them, so I made sweet potato biscuits for our Sunday community fellowship meal. Here they are before being put into the oven. (Note to self, let the potatoes cool before mixing them into the dough. That's why these are spoon-dropped biscuits and not perfectly round):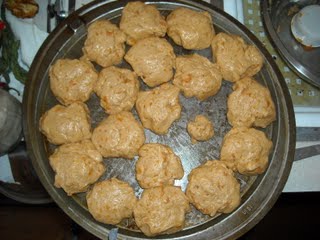 And here they are fresh out of the oven: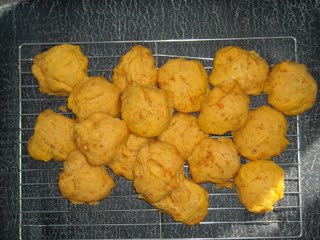 We're very thankful to God for the unexpected blessing and provision of these sweet potatoes.
Susan