I believe it was the same day Adelina and new heifer calf Graciana walked up to us during feeding time that our cow, Rosa, showed up with her new little bull calf! When they walked up, it was still quite wet; and so we figured it couldn't have been more than a few hours old.
A cold front was just coming in too at the time. After dropping some range cubes, I was walking around trying to get a good look at Rosa's calf, and it started to wander off, slowly, toward the pond. I thought, please don't keep going or you're going to…..and yes, fall in. I ran up, in case it was in trouble, but it bounced out with no problem, although now its whole front end was really soaked. And with a cold front coming in.
But the Lord graciously brought the little guy through, and here he is! We decided to call him Manolito, because he's got so much of the grullo color his sire, Manolete, has. Manolito also means "God is with us" in Spanish: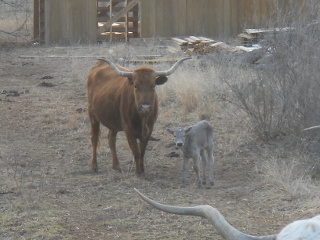 And here's his video with Rosa (which was taken about the same time as the video of Graciana as well, I believe):
We are again grateful to God for the provision of this new bull calf, Him bringing him through the cold front, the Longhorns' continued health, and the fields the Lord has granted us to be able to graze them on.
— David