After being able to fashion a homemade fat lamp with a wick consisting of one rope of a cotton mop head, I thought it would be interesting to see if I could form a wick holder that would hold multiple rope strands so that the wick would be more similar in width to a common lamp wick, and thus produce more light.
And here is my attempt to do just that. I bent a single, elongated loop to surround the rope strands:
Well, it appeared to work pretty well, and produces quite a bit more light!
With the extra light comes extra heat, so I tied a cord around the mouth of the jar; and now it functions as a lantern: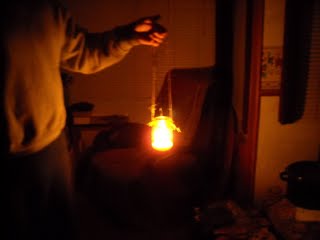 We thank the Lord once again for granting resources and provisions to continue to learn the old paths, may He increase His light within us daily, and may we shine brightly His light to the world.
— David