After one of the worst droughts I believe in Texas history last year, which was almost certainly a contributor to the the wildfire we faced, the Lord has graciously brought much appreciated rain this year. We estimate He granted nearly a half-year's average last month!
But with that came several severe storms — some of the severest we've had — some of the highest winds we've experienced, and the largest hail — golf ball sized, with a few maybe up to tennis ball size?
And so, we thought we would take you through some of the results…
This just shows how many of the leaves were knocked off the oak trees: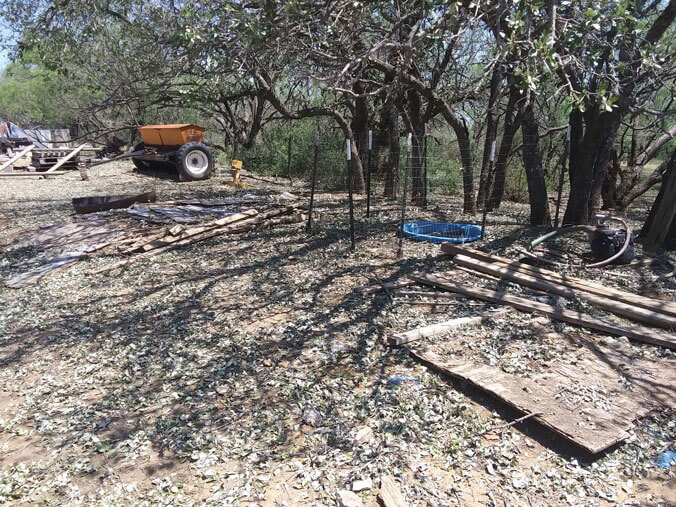 This is the meat dryer upside down and pushed up against the clothes dryer. I had the legs wood-staked into the ground, but I believe over time the wood rotted and couldn't hold against the winds: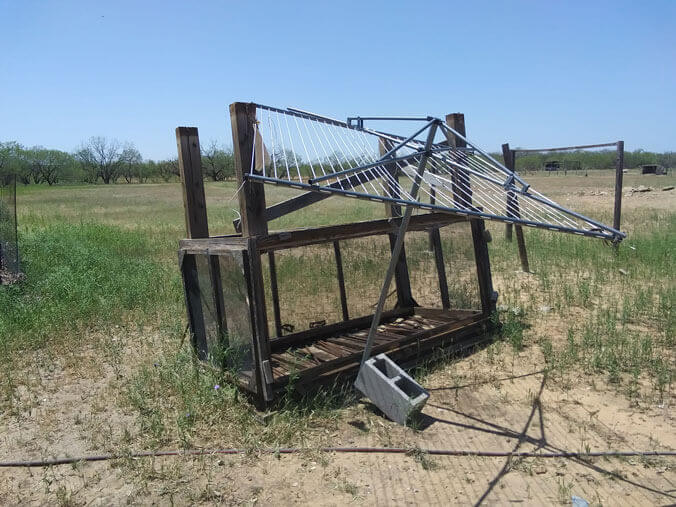 The hail did a number on all the gutters and downspouts:
My wonderful wife has gotten us by for a while with a superb tape job she just did on her own! 😀
The hail punched holes through the window sills, and tore up screens. I don't believe we had any broken windows through it all though: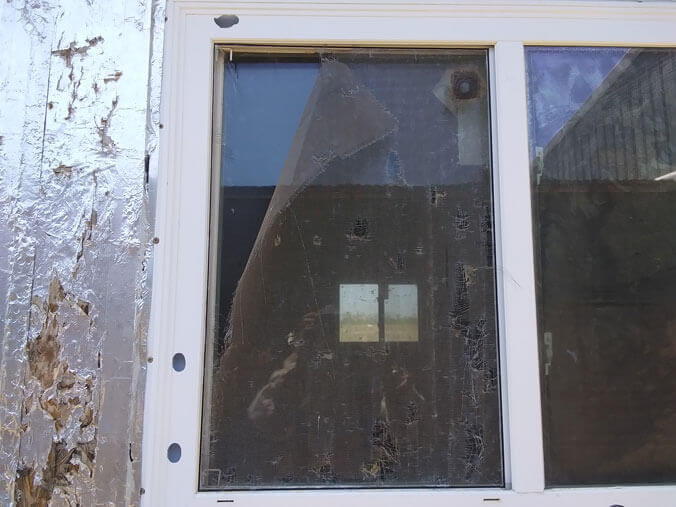 Here's a video of how I attempted to repair these:
I had these goat sheds staked into the ground as well, but they probably had the same problem (that middle shed is upside down).
Worrisome at the time but a funny story now: our rooster Albus (who was the inspiration for a hymn I put together, and who is one of our musical roosters from long ago) goes up every morning to hang out with the boy goats. Well, after a storm with the shed flipped over, I went up there and couldn't find him. Uh oh. But, I wondered….and sure enough, he was in the upside-down shed, standing on the roof that was not the floor. Yea! My guess is he ended up going with the shed as it went over. We're thankful the Lord spared him. 🙂 :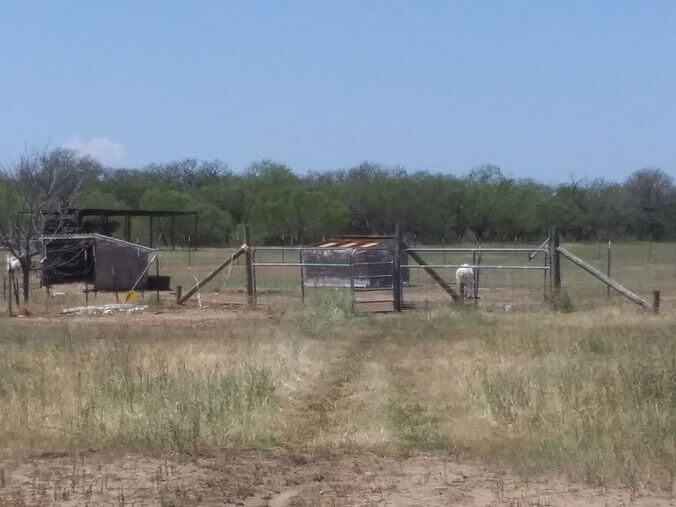 This was a palette shed we had put together for our goose at the time, Gigi, who decided to nest there — torn off its bottom and upside down: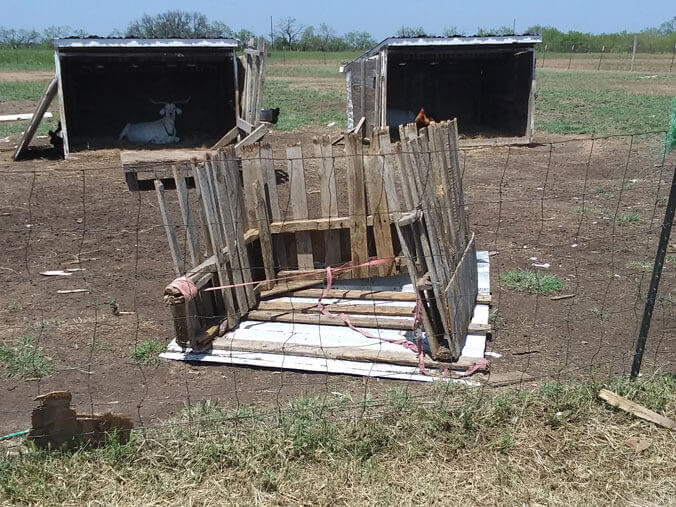 This shed's roof and one of its sides were blown off, but this below is it stitched back together.
I also was tired of sheds rolling over, so I pounded t-posts next to the opening on each side and tied the roof and shed to them. Hopefully that will generally hold them now, unless God has other plans for them. 🙂 :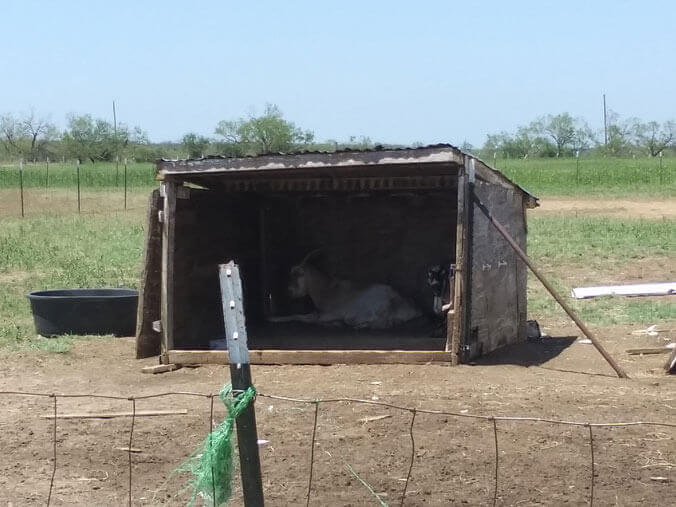 When the winds came through the first time, this solar panel, which is attached to a palette that has three cinder blocks holding it down, ended up face down with a cinder block on the back of the panel. Well, that put some cracks in it.
And then when the hail came through, that finished the job. 🙂 …although I believe it still functions fine: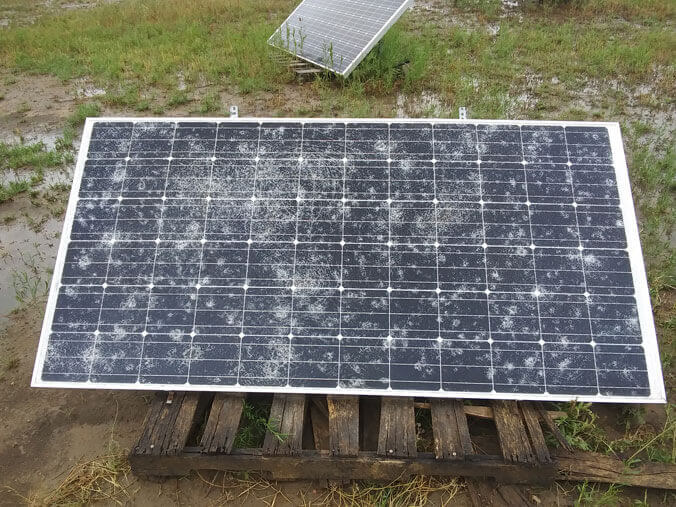 And finally, here's the car. I figure it must have been one of the big ones similar to some that hit the roof of our house — a sound I don't believe we've heard before — big pounding bangs on the house roof. I figure those must have been bigger than the golf ball-sized ones:
Then, after some road renovation to keep water from flowing off the property, our original pond overflowed — the first time since we built the extension some time before 2008.
This is the far side. When it was overflowing its worst, it was really going over much of this back side: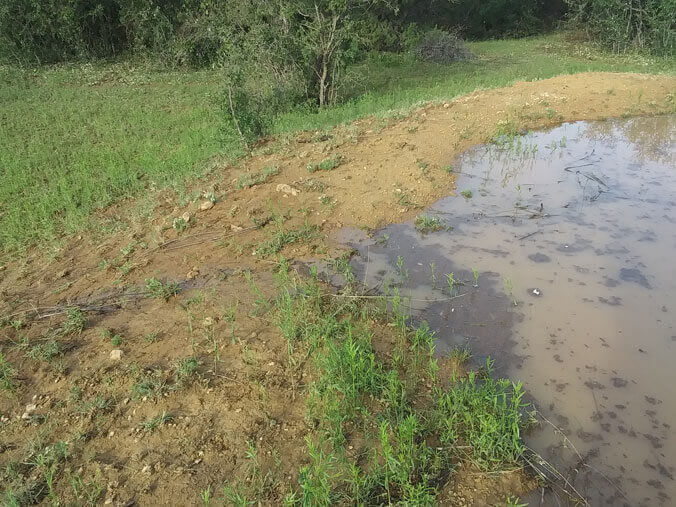 And here's an overflow trench I dug to try to keep that from happening much more, although I probably need to make it wider because I don't believe it will keep up with what can flow into the pond on a heavy rain:
Lastly, here's a video of some of that overflow after I had dug the outlet trench:
In the end, we believe all these things are by the hand of God fulfilling His purposes:
Psalm 148:8 – "Fire, and hail; snow, and vapours; stormy wind fulfilling his word:"
But, the Lord was very merciful through it all as things could have been worse, and again, He has granted some very much-desired rain. We pray He applies it to the land to bring healing after being so parched last year, and pray for His continued mercies in the weather.
May we thirst for Him, and may He fill us with His Spirit so His graces in godly fear of Him, holiness and obedience flow from us for His glory.
Psalm 63:1 – "O God, thou art my God; early will I seek thee: my soul thirsteth for thee, my flesh longeth for thee in a dry and thirsty land, where no water is;

John 7:38 – "He that believeth on me, as the scripture hath said, out of his belly shall flow rivers of living water."
— David