Well, it was Spring time shortly after we moved here, and it was time to plant a garden, which neither of us had done before. We fenced off an area, tilled and manured it, and raked it into rows. I can't remember all we planted, but nothing really grew other than just a few things. In looking back, some things that hindered it was the huge drought we had that year (3 1/2 months of nearly 100 degree temps), and when I did the rows they were rounded at the top so a lot of the water just ran off.
Here are a couple of pictures:
Here I buried mesquite tree branches under the perimeter of the fence to add a barrier against critters that might try to dig under the fencing. I'm not sure it was worth the effort, but I did notice a dig hole at one point, and the varmint almost certainly wasn't going to get around that extra distance: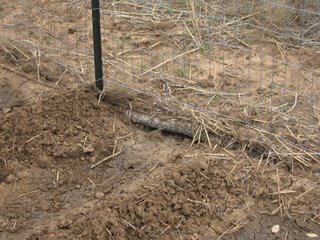 Although nothing really happened as a result, the process of planting and watering reminded us of the many examples of sowing seed in the Bible, including that God is the initiator of life in the garden as He is the initiator of life in one's soul. And we were thankful for being able to live out those examples.
We tried a Fall garden later that year, but as soon as things started to sprout, grasshoppers ate them down to nothing, and so that didn't work either.
We pray we learned from those things and that God would grow our faith and eventually grant provisioning from our future gardens, according to His will.
— David