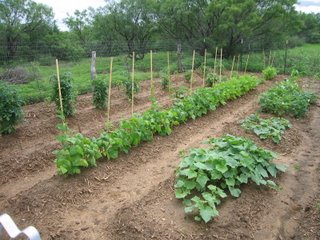 2007 rolled around and we looked forward to starting our garden. We had learned some valuable lessons from the prior year, including building the rows with a trough going through the middle so the precious water wouldn't run down the sides. There was a severe drought the year before, and we had received very little rain. Spring 2007 was pretty much the opposite in that it was one of the wettest on record, and we are extremely grateful for the bountiful water provisions.
We were able to supplement the garden with water from the well this time too, which was a wonderful help. We again thank God for this miracle in a region where underground water is very scarce.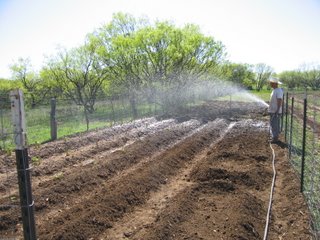 The Lord granted very generous yields of tomatoes, green beans, cucumbers and cantaloupes:
This was my first delving into the process of canning food. We invested in a canner, and I was able to can 30 quarts of tomatoes and eight quarts of green beans. I had allowed myself to feel very intimidated because I had not grown up around anyone who did canning or preserving; but after carefully reading the instructions and canning my first batch of tomatoes, I felt very relieved and encouraged.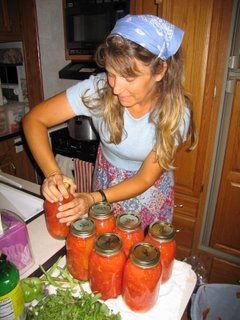 The trailer really heated up during each canning session but at least we didn't have to pay to go to a sauna! Nothing like adding about 50% MORE humidity to a hot sticky summer day when canning in the trailer. (Just kidding – we're very thankful to be able to do it). We hope to build a summer kitchen dedicated to cooking and canning which should really help to keep the trailer cooler.
For those of you who have gardens, you will agree that garden veggies are exponentially better tasting and healthier than store bought. Tasting store bought tomatoes after having fresh garden tomatoes is almost a crime. It feels like you have Novocaine on your tongue or it is wrapped in plastic wrap – WHERE IS THE TASTE??!! Amazing difference.
All joking aside, this is another wonderful picture of God's sovereignty, in that, we are to be responsible to water and tend to the garden as God has instructed us to do (Genesis 2:15, 3:23), and God is the only One who provides, and is able to provide, the increase. As many examples in this temporal world shadow spiritual realities, we are reminded that He is also the only One who provides, and is able to provide, our spiritual increase. Praise God for His countless graces and mercies in His wonders and workings!
James 1:17 – "Every good gift and every perfect gift is from above, and cometh down from the Father of lights, with whom is no variableness, neither shadow of turning."
Susan