The Lord graciously granted Betsy, one of our nanny goats, to give birth to twins. They are pure Nubians. One is a male, the other a female; and so, please meet Donny and Marie. Here is a picture (Donny's on the right, Marie's on the left):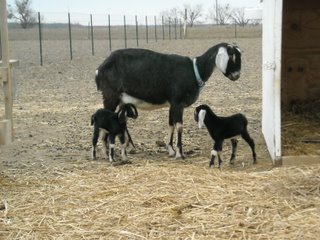 And here is a video:

They were born just before sunrise on a near freezing morning. Due to some confusion in our understanding of when new-born goats need to be up, around and suckling, we let them be for several hours. Well, for some reason Betsy didn't clean them off, and when we checked on them again, they were still laying down, one struggling to get up stuck in the birth wetness. Needless to say, we got them up and cleaned out their little shed and put fresh hay in it. We went and looked up some new-born information in our goat books, and they indicated they needed to be up and suckling within 30 minutes. Sigh. They looked very weak, weren't really up and about, and weren't eating; and so, we decided to milk Betsy for her colostrum and bottle feed them. We did this a few times throughout the afternoon. Before our community meeting that night, we closed them into the shed because it was going to be a cold night again. After the meeting we checked on them, and they appeared to be walking around a bit and even latching on to Betsy's teats a little, and so we decided to not interfere for the night. And we prayed.
Well, God was merciful, and in the morning they were up and standing when we let them out. We watched them throughout the day and saw that they indeed were suckling. Since then they've only gotten stronger and are now getting around quite well.
Here is another video:

We are thankful once again for the Lord's provisions, and his mercies in allowing the new little ones to live and begin to grow healthy.
— David