Our neighbor mentioned one day that the local market was having a great sale on cheddar cheese. Dave suggested we buy several pounds to take advantage of the price. I include cheese in many of our meals but not enough to consume that much before it would start to go bad. Then during one of our church get-togethers, another neighbor mentioned that you can preserve cheese in wax. I had seen wax-covered cheese in the deli's and grocery stores all my life but had never thought much about it. I thought it was a marketing gimmick or something.
We decided to buy a five pound block of red cheese wax from New England Cheesemaking Supply Company, and it arrived in just a few days: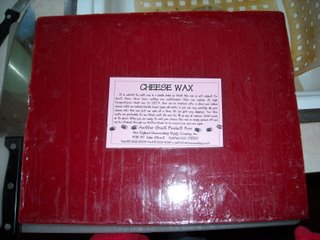 The instructions called for a double-boiler in order to not burn the wax, so I dutifully went out and bought one. That was my first mistake. They said you should have dedicated utensils and containers because working with wax pretty much ruins them for other uses. I then asked myself, "What was I thinking. Why would I want to ruin a brand new double boiler for this use??!" I decided to keep the double boiler because I didn't have one and it is an integral component of good kitchen utensils. So I ended up putting water in the bottom of the double boiler and setting in it an old stainless steel bowl which ended up working just as well. I hope to find a used large saucepan at a thrift store in which to put the steel bowl for a makeshift double boiler in any future cheese waxing: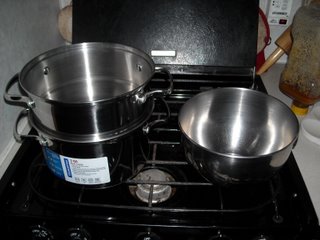 I cut a small block of wax off of the large block and placed it in the bowl to start melting: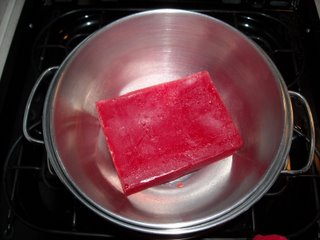 It really didn't take long for the wax to melt at a low heat: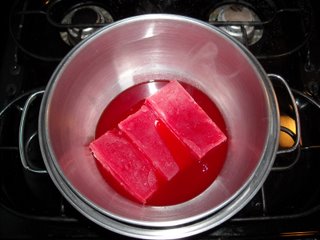 At first I tried using tongs to hold the cheese as I dipped it, but that seemed to be a bit slippery, and the cheese ended up being dropped. Also, we had purchased a cheese wax brush to dip and brush the wax onto the cheese. That was my second mistake. The brush proved to be pretty useless because it didn't provide for a thorough coating, and the process was very time consuming. Dave suggested perhaps cutting the cheese (alright, enough snickering) into smaller sizes and dipping them in half at a time with clean hands, letting that dry, and then dipping the remaining half. That seemed to work really well:
The instructions called for two to three coats of wax, but since this was my first time, I wanted to coat them really well; so I ended up dipping them about four times. It took only seconds between each dipping for the coating to dry:
Here is the final product ready to be stored for several months!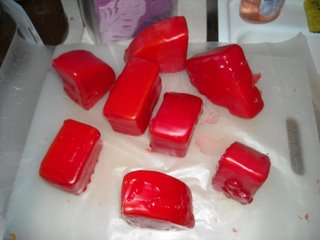 We figured in storing the cheese it would be best to keep it as far away as possible from any potential mice, so we purchased a few inexpensive hanging baskets and hung them containing the cheese in our root cellar: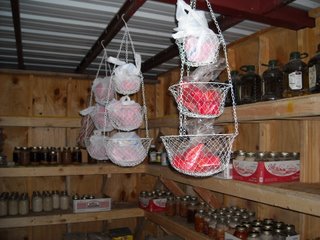 I have used a few blocks of the cheese so far, and the wax has proven to work beautifully. It comes off very easily and can be washed, melted and re-used. I highly recommend this method of cheese preservation and thank God for His continued provisions.
Susan