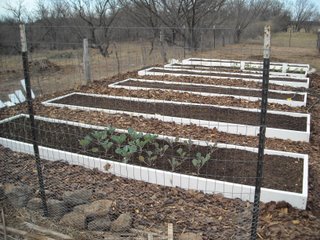 Well, it's that time of year again, and the Lord has granted us provisions to be able to plant a garden. This year we've followed Michael's recommendations that he researched as to how to put together a good top soil, which was one part vermiculite, one part peat moss, and one part compost. While the vermiculite is rather pricey, it and the peat moss only need to be included in the first-year blend, with each year following only requiring compost.
In a hopefully further improvement, because our beds were sloped, I added raised barriers and leveled out each of them so the water wouldn't just run off the beds:
As you can see, I also put bark all around the outside of the raised beds to allow us to walk in those areas after any rains. Plus, after starting the project last year, I finished putting two-foot chicken wire around the garden area to help keep out rabbits and other such critters.
Jumping the Gun
We had a very mild Winter this year, and so I decided to plant soon after what is technically our last freeze date of April 15 or so. Well, a week to a week and a half after our planting, a couple of cold nights with heavy winds came along, the second night being a freeze watch or warning night. We covered our plants with thick, white plastic sheets, and left them on during the day time between the two nights because of the difficulty with the winds. That between-day was sunny and in the 50s-60s Fahrenheit, I believe. I don't know if it was the cold, the wind, the sun during the between-day, or a combination of them, but the day after the second night when we removed the plastic, just about all of the plants were wilted very badly, enough to where it looked like they all needed to be replanted. And so I went ahead and did just that; I'm just hoping now we don't have another freezing night. Also, given this experience and that we've had freezing days in early April in years past, we have decided that from now on we will probably make somewhere around April 15th each year our new, personal, last freeze date.
And so, the garden is mostly planted again now, and we are looking forward to the potential of God's provisions for us this year in the area of vegetables, according to His will.
— David