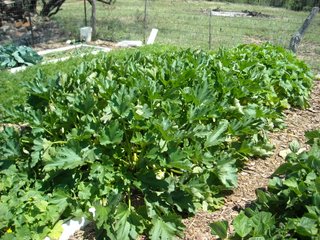 We didn't know what to expect with our 2009 Spring garden, but the Lord has seen fit to provide us with plenty of water in our cistern with which to water the garden; and He has brought the increase, and what an increase! As me and my buddies Rogers and Hammerstein always say, "Zucchini is busting out all over!"
I went out to see what was available to harvest; and, boy, there was an abundance of zucchini ready to be picked:
I looked through our book, "Preserving Food Without Freezing or Canning" by The Gardeners & Farmers of Terre Vivante, to see if there were ways other than canning to preserve the zucchini. The book described a very easy, lactic fermentation method. I simply washed and grated the zucchini, skin and all, and put it into canning jars with a teaspoon of salt per pint alternating layers of zucchini and salt. Then I added water to each jar leaving 1″ head space, put on the lids and caps and……that's it! I put the jars down in the root cellar and within days we had a very delicious and fresh tasting zucchini kraut:
I also read that drying zucchini is a very good way to preserve it. I was excited to be able to utilize the wonderful solar food dryer that Dave had made. So I cut up the zucchini into slices, and within a couple of days they were shriveled and crispy! They say you can eat them like potato chips with dip or use them in soups and casseroles.
Here they are put out to dry on trays in our solar food dehydrator: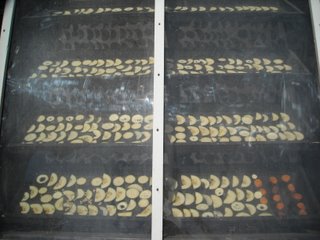 Here are the dried chips after 1-2 days in the dehydrator (the orange looking pieces are apricots which turned out delicious as well!):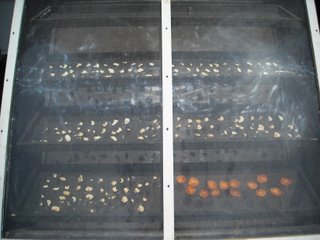 I preserved the dried zucchini chips in glass jars. And I didn't have to use the pressure canner or a drop of propane!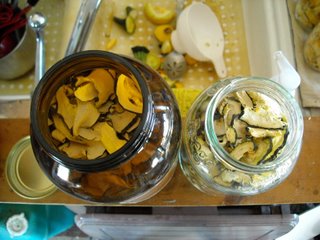 I also harvested a bunch of yellow summer squash I was hoping to preserve. I read online that one woman didn't like the "mushiness" of hot packed canned squash, so she and her family started raw packing it with no water. This way it could be dipped in egg and crumbs to fry it or be used in soups and casseroles. Well, I went ahead and tried it that way, and it worked great! I'm very excited to have found this method, which opens up a wider variety of ways to use squash in meals.
In addition to canning, I also processed some of the yellow summer squash with the lactic fermentation method, as I had done with the zucchini; and it turned out fresh and tasty as well, without any freezing or canning used.
What a huge blessing to be able to capture and preserve the freshness of these garden vegetables without canning or freezing. We are careful to thank God for the bounty of this harvest as well as His many spiritual provisions.
1 Cor. 3:6 – "I have planted, Apollos watered; but God gave the increase."
Susan