The initial plan for our goat sheds was to make them portable. On one I put some wheels; but on the subsequent ones, I decided it wasn't worth the time nor expense. I am able to lift one side and shuffle them along, which is fine for moving them around inside an individual pen; but moving them from pen to pen would take some effort. I thought it might be nice to inexpensively throw together something on which to haul them around.
Here's what I came up with: essentially it's a shed tote made of landscape timbers, bolted together in a square, with the back cross timber on top of the skid timbers, and the front cross timber below, which would angle the skids up allowing for it to be more easily dragged along.
And here it is: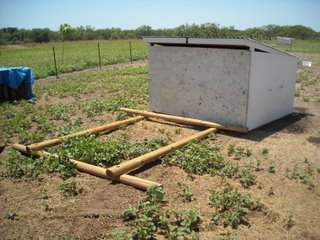 The next pictures show the process of a move:
And the goats check out the "new" place!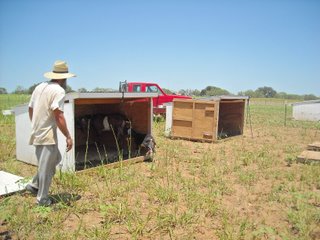 Thanks to the Lord for this idea and for the resources to be able to put it together.
— David