I wrote the following some time ago, in light of some things I noticed with Gary, our gander. Well, for some reason I never decided to put it out at the time, but later thought that I might if Gary ever died. Well, you can guess then why I'm posting it now. Yes, Gary died yesterday, which interestingly was one day short of being two years to the day (which is today) since I started writing the post below. He had some kind of sickness over the last month or more: he had some fluid in his lungs; he just generally slowed down; and in the end, he didn't really seem to be eating, and was very weak. His lungs seemed to get clearer over this last week, but whatever it was apparently was just too much for him, or was terminal.
I am thankful for the fun and brightness Gary brought during these first years of our homesteading, and thanks to the neighbors for letting us have him. I'm also thankful that Sue and I were able to be back from a few-day anniversary trip to be here when he died, and that he wasn't a burden to those watching our place while we were gone. And I'm thankful I was right next to him when he took his last breath, and that he didn't seem to suffer.
Even though at the time I wrote the below post he was still hanging around me, he did eventually prefer Gigi over me (good call, Gary!); so I'm glad he had a goose mate for the final chapter of his life. Thanks again to Mrs. Judy for giving Gigi to us.
The Lord has graciously begun to grant me a better perspective regarding affections toward animals. I am sad and will miss having Gary around, and he will be fond in my memories; but I am thankful the Lord granted some time with the farm animal "character" that was Gary.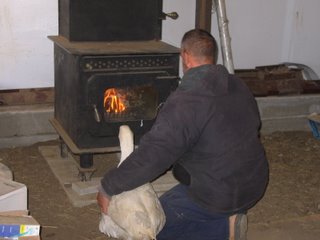 ~~~~~~~~~~~~~~~~~~~~~~~~~~~~~~~~~~~~~~~~~~~~~~~~~~~~~~~~~~~~~~~~~~~~~~~~~~~~~~~~~
If you have been following this blog at all, you will know about Gary the goose (or really, Gary the gander, as we've since learned). When I introduced him on this blog, he evidenced an interestingly loyal dedication to whom he considered his "mate," which since we brought him up to our land has been me. Even after introducing a female of his own kind to him, he has resisted leaving my side.
While he has some often interfering quirks (like "Gary vs. the Bucket" shown in his introduction post above), this type of latching on, even to a human, is apparently a common characteristic of geese; but it has also offered me an opportunity to observe fierce loyalty. No matter where I go, generally, he follows. If I leave the land in the car, he will walk up and follow the fence line to, what appears to be, stay in visual contact. If we are separated for a brief time across a field, if he feels it is time for him to come beside me, he runs up to do so.
In the past, my friendships have usually been about myself and how they benefited me, even if it was just to feel a sense of friendship. In community here, I pray my friendship is not that, and more in line with being a brother to the others.
But perhaps, I can take a few lessons from Gary in his devotion to, what seems to be, the object of his affection (so to speak). I would like to chase after Christ the way Gary runs up to me when he might first see me. I would like to follow Christ as persistently and as consistently as Gary follows me around. I would like to befriend Christ and His brethren here on earth in the way Gary stays with me wherever I go.
Here are a couple of places where the Bible describes spiritual friendship. I've included the Puritan expositor John Gill's comments on these verses:
Prov 17:17 – "A friend loveth at all times, and a brother is born for adversity."
A friend loveth at all times,…. A true, hearty, faithful friend, loves in times of adversity as well as in times of prosperity: there are many that are friends to persons, while they are in affluent circumstances; but when there is a change in their condition, and they are stripped of all riches and substance; then their friends forsake them, and stand at a distance from them; as was the case of Job, Job 19:14; it is a very rare thing to find a friend that is a constant lover, such an one as here described;

and a brother is born for adversity; for a time of adversity, as Jarchi [says]: he is born into the world for this purpose; to sympathize with his brother in distress, to relieve him, comfort and support him; and if he does not do this, when it is in his power to do it, he does not answer the end of his being born into the world. … [T]his may be understood of the same person who is the friend; he is a brother, and acts the part of one in a time of adversity, for which he is born and brought into the world; it being so ordered by divine Providence, that a man should have a friend born against the time he stands in need of him. To no one person can all this be applied with so much truth and exactness as to our Lord Jesus Christ; he is a "friend", not of angels only, but of men; more especially of his church and people; of sinful men, of publicans and sinners; as appears by his calling them to repentance, by his receiving them, and by his coming into the world to save them: he "loves" them, and loves them constantly; he loved them before time; so early were they on his heart and in his book of life; so early was he the surety of them, and the covenant of grace made with him; and their persons and grace put into his hands, which he took the care of: he loved them in time, and before time began with them; thus they were preserved in him, when they fell in Adam; were redeemed by his precious blood, when as yet they were not in being, at least many of them: he loves them as soon as time begins with them, as soon as born; though impure by their first birth, transgressors from the womb, enemies and enmity itself unto him; he waits to be gracious to them, and sends his Gospel and his Spirit to find them out and call them: and he continues to love them after conversion; in times of backsliding; in times of desertion; in times of temptation, and in times of affliction: he loves them indeed to the end of time, and to all eternity; nor is there a moment of time to be fixed upon, in which he does not love them. And he is a "brother" to his people; through his incarnation, he is a partaker of the same flesh and blood with them; and through their adoption, they having one and the same Father; nor is he ashamed to own the relation; and he has all the freedom, affection, compassion, and condescension, of a brother in him: and now he is a brother "born"; see Isa 9:6; born of a woman, a virgin, at Bethlehem, in the fulness of time, for and on the behalf of his people; even "for adversity"; to bear and endure adversity himself, which he did, by coming into a state of meanness and poverty; through the reproaches and persecutions of men, the temptations of Satan, the ill usage of his own disciples, the desertion of his father, the strokes of justice, and the sufferings of death; also for the adversity of his people, to sympathize with them, bear them up under it, and deliver them out of it. …
Prov 18:24 – "A man that hath friends must shew himself friendly: and there is a friend that sticketh closer than a brother."
A man [that hath] friends must show himself friendly,…. Friendship ought to be mutual and reciprocal, as between David and Jonathan; a man that receives friendship ought to return it, or otherwise he is guilty of great ingratitude. This may be spiritually applied; a believer is "a man of friends", as it may be rendered; he has many friends: God is his friend, as appears by his early love to him, his choice of him, and provisions of grace for him; by sending his son to save him; by visiting him, not only in a way of providence, but of grace; by disclosing his secrets, showing his covenant to him, and by making him his heir, and a joint heir with Christ. Christ is his friend, as is evident from his visiting him at his incarnation; and in a spiritual way, by the communication of his secrets to him; by his hearty counsel and faithful reproofs; by his undertaking and doing for him what he has; and especially by suffering and dying in his room and stead. The Holy Spirit is his friend, which he has shown by discovering to him his woeful estate by nature, and the way of salvation by Christ; by working all his works in him; by acting the part of a Comforter to him; by revealing divine things to him, by helping him under all his infirmities; by making intercession for him according to the will of God; and by making him meet for eternal glory and happiness: angels are his friends, as is plain by their well pleasedness with the incarnation of Christ for men; and which they express at their conversion; by their ministering to them, their protection of them, and the good offices they do them both in life and at death; and saints are friends to one another: and such should show themselves friendly to God, their covenant God and Father; by frequently visiting him at the throne of grace; by trusting in him; by a carefulness not to offend, but please him; and by a close and faithful adherence to his cause and interest: to Jesus Christ their Redeemer, by a ready obedience to his commands; by owning and using him as their friend; by taking notice of his friends, and showing them respect, his ministers and poor saints; by cleaving to him, and renouncing the friendship of his enemies: and likewise to the Holy Spirit, by not grieving, quenching, and despising him; but by making use of him, and giving up themselves to his influence and direction; and by acknowledging him as the author of all their grace: also to angels, by speaking well of them, owning their good offices, and reckoning it an honour that they are come and joined to such a company; and to the saints, by Christian conversation with them, by sympathizing with them in all conditions, by hearty counsel, faithful reproofs and admonitions, and by helping them in every distress, inward and outward;

and there is a friend [that] sticketh closer than a brother; who is to a man as his own soul, De 13:6; and so are of one heart and soul, as Jonathan and David, and the first Christians, were; this is true of Christ, and may be expressive of the close union between him and his people; and of his close adherence to their cause and interest; and of his constancy and continuance as a friend at all times; and of his faithfulness and unchangeableness as such …
To me, Gary exemplifies an interesting example of faithfulness and friendship: In a way, I would like to have that which he shows to me toward Christ Jesus. I pray for God's graces in faithfulness and friendship to Him and His family.
— David