The Lord granted our first calf this year, a little heifer calf, to our cow Carlita. As you can see, she's a light tan, and so we're going to call her Caramela, which is caramel in Spanish: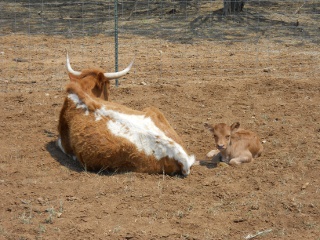 And here is a little video:
Video of New Longhorn Heifer Calf Caramela
We are grateful once again for God granting continued perpetuation of the cattle here, and for the granting of this new heifer calf. We pray for God's glory in her, and wisdom in raising her.
— David