Almost a year ago in August, Dave and I were looking to sell our pure Nubian buck, Donny. We said in our ad that we would also consider a trade for another dairy buck. A local man called us and said he had sold all of his bucks; however, we discovered he had a LaMancha-Saanen dairy doe he was willing to trade, which, he said, was pregnant and expected to drop within a few weeks. We were very satisfied with that deal. The name they had given her was Hannah, one of my favorite names; so we decided to trade for her and keep that name.
Well, those few weeks came and went; and it didn't take long to figure out Hannah was not pregnant, and we think possibly hadn't been before, based on the size of her "bag" (udder); but we weren't sure. Anyway, we were disappointed but so pleased with Hannah's disposition and gentleness. She has been easy maintenance and a joy to have, for a goat. 😉
We put her, along with our other eligible does, in with our buck, Shatner, in early December. About four months later, we noticed Hannah's little udder starting to puff out a bit, then a bit more, then a bit more, until we were very excited at the prospect that she was pregnant. We narrowed down her potential delivery date to sometime in early May. Her bag had become so large and engorged we knew the time was getting near. One morning, I went out to milk and noticed her bag had gotten bigger overnight; and I was cautiously optimistic that this might be the day! So I decided to prep the sheds with fresh hay for her, just in case, and took our digital camera with me to chronicle the day:

LaMancha-Saanen Doe Giving Birth to Half Nubian Buck
I have been somewhat protective of Hannah since we got her because she is low on the totem pole and her gentle disposition makes her a default bullying target for the stronger does. And assuming this was her first kidding, I asked, if it be His will, that the Lord would allow me to be present for her delivery. Some goats like the moral support of their owner by their side, and it seemed Hannah appreciated me being there. So I was very thankful that He granted my request, and I was excited that some new neighbors came by to visit right when Hannah was going into hard labor, and they had the opportunity to witness it as well.
It is now several days later, and our new "kid" on the block, Wahlberg, is doing just fine. Again, we want to be careful to give God all of the credit and glory for perpetuating our goat herd: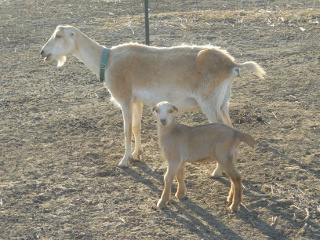 Susan