Back in June, the Lord granted our pig Lulu to have her litter of piglets! She had 14 in all! — one was dead when we found it, and the other died a few days later. But the 12 continued on, and are all still going and healthy, thanks to the Lord!
Here they are at around 8 weeks, the day before we took Lulu into the butcher: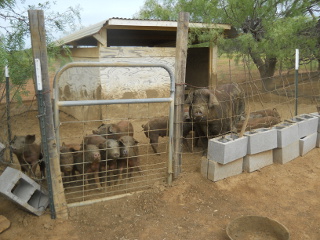 And here is a video diary of the entire adventure, from when Lulu met Piggy, the boar we borrowed from the Bunkers, to shortly after the piglets were born, to the day of the picture above:


Once again, we are very grateful to God for granting the safe delivery, the provisions of Lulu and her litter, and for the continued health of the piglets.
— David