One afternoon, I was looking east out toward our chicken pen area and saw a hen with some little birds around her. My first thought was that some small wild birds were just hanging around her, but then thought, "Wait a minute….I wonder…." And sure enough, it was a mama hen with three little chicks in tow!
It always amazes me how a hen makes it out in the woods for three weeks sitting on eggs with hazardous critters running around to end up hatching some out. God knows though. 🙂
And so, we rounded them up and put them in the piano room, and they're all three still healthy today!
Here they are: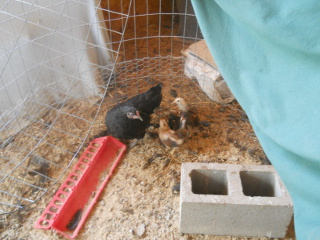 And their video:
We are grateful to the Lord for granting this bonus hatching, His watchful eye on them the three weeks in the wild, and His continued granting of their health and safety!
— David