As we mentioned in our last pig update, we had purchased Odysseus to mate with our female Penelope. We left them together for four months and then took him to the butcher, expecting her to deliver any time. Well, four more months passed, and…..nothing. Bummer.
I've been trying to figure out what do to, and asking God, as we try to do with everything, that He would direct in this. I really like the line of Durocs we have had, and have been hoping to try to breed Penelope still, but if that's not what God would have, I have asked He would direct whichever way He would.
Well, one day much to their surprise, Mr. Bunker and family found out one of their Duroc females had dropped a litter of piglets. She hadn't been placed with a boar, so the assumption was a wild boar got to her, which was evidenced in the characteristics of the piglets. Given that, I thought it might be nice to get one of those males and mate him with Penelope. And when they were big enough, so I thought, we began the process…
The first fellow we put with her was pretty small, although they got along pretty well. However, by afternoon that day, he was gone, and we found him again back with his mamma and siblings. We were happy that he at least made it back with them. So, we figured it might be good to let them grow up some more before trying again…
Take 3! We rounded up a young male again, which ended up being a different one this time, and began the operation of putting him together with Penelope. This at first didn't go very well. Penelope became downright hostile, even to me at one point — very unlike her. But, eventually, they have learned to at least get along, and are cohabiting relatively peacefully now.
When trying to figure out what to call him, with his long, wild-hog snout, he reminded me of the aardvark from The Ant and the Aardvark cartoon, so we decided to name him Ardy. And here he is: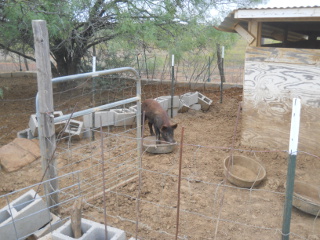 While a bit long, this video takes you on the journey of putting the first little one with her, and then how it went with Ardy. It shows Penelope snapping aggressively at me at one point, then slamming her snout full speed into a tree chasing Ardy, but also a couple of weeks later things being much more calm. And finally, I take you along for a morning feeding with them, which includes views from the bucket cam! 🙂
We thank the Lord for this opportunity, and His continued health and safety with the animals (and me at that one point). We pray He might grant provisions from these two, or show us a different direction if that's what He would rather have.
— David