With some of the kitchen accoutrements being added, the Lord has graciously granted we continue to add some more things in getting it more functional…
Sue liked a utensil drawer and pot hooks idea, so we bought a set of drawers that fit under the counter, and I added some hooks: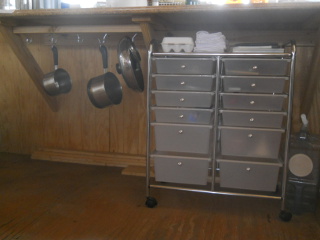 And here are some more pantry shelves added, on the opposite side of the others this time, and with the potential for more levels: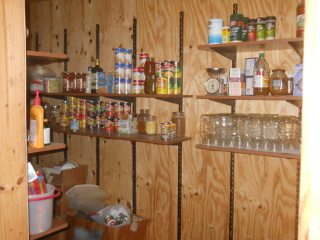 Lastly, all along the plan for the area on the north wall between the counter and the stove was to install an indoor elevated tank for water flow into the kitchen sink. After some research, I settled on a 6 gallon one with a 3/4 inch outlet, that also happens to have a self-venting cap (which I didn't realize until we got it — bonus!).
And so, I put up a platform, put the tank on it, and ran the tubing and garden hose. On the end at first, I put a hand-squeeze garden sprayer, partially because you could set it to flow automatically, but the outlet was too small, and the flow was minimal. I then replaced that with a valve that is the diameter of the hose, and now it flows nicely, even spraying across the sink when the valve is about 3/4 open.
Here are a couple of pictures: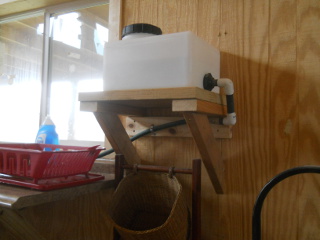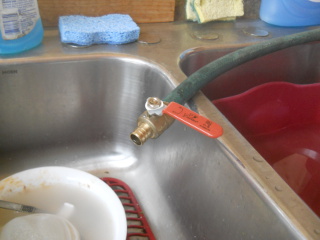 And here is a video of it in action:
We are always grateful to God for granting continued progress on the house, and for the ideas He gives us. We always pray this house will be a place of worship to Him!
— David