Recently, it was time to put our billy goats and nannies together for breeding time this 2016!
The following is a video of the event. As I mention in the beginning of the video, our buck Shatner had some problems coming out of our first cold front of the season. It appeared he spent the night sitting in his urine, and the temperature had reached freezing. He was quite cold in the morning and was having trouble standing. He did seem to bounce out of it, and was shown here in the video around the time, but sadly, shortly after the first part of the video was made, Shatner went down hill and soon died. We were both there with him at the very end. He was a good buck, our first, made many kids, and we are thankful to the Lord for granting him to us. Also mentioned in the video, our other buck Rocky has a growth on his back leg, which seems to be slowing him down, although it did appear the other day he is able to get the job done:
With one of our two bucks gone, we were hoping to find a new one, leaning more toward the Lamancha breed with the hope of more milk production. Graciously and with one look at an internet selling list page, there was a young Lamancha buck available in the general area — wow! I contacted the owners, and went and got him the next day. Here he is in the back of the truck just after arriving back after picking him up on that cold morning, and sticking with the famous "Billy" names, we decided to call him Shakespeare: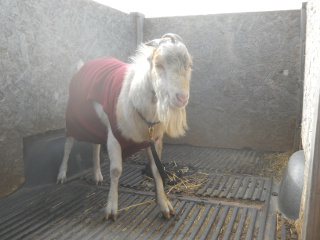 His previous owners said he could jump fences, and he indeed did one time as he was roaming out of the pen. But the silly billy (pun intended 🙂 ) tried again to jump the fence but this time caught his back hoof in the top square of the net-wire fencing, so when he went over, the top vertical wire next to his leg bent up and over the top wire pinching his leg in place. Thankfully, Sue was there, and we were able to cut the wire pretty quickly with only a little, mostly external damage, although it seems to have shaped him up a little with fence jumping. 🙂
Here is his video when we put him in with his nannies. You can sure tell he is younger by his immediate interest level 🙂 :
We are always thankful to God for granting we be able to have the goats and the milk. We thank Him for Shatner and the offspring from him, and for Shakespeare now, and the continued health, safety and provision He has granted for the goats and the homestead, and pray He might grant those continue, and for healing for Rocky, according to His will!
— David