The Lord recently graciously granted another two hatchings for 2017, the 4th and 5th!
This first group is a little interesting: there were a couple of mama hens sitting on eggs in the barn, and one day I walked in, and heard little chick sounds, and behind the dog kennel there were two chicks and the two mothers walking around. Oh boy…gotta round them up before William our cat sees them! So, I caught the two chicks and picked one of the moms and put them in the summer kitchen. And then if I remember correctly, I think something was wrong with that mom — she was being hurtful or something to the chicks and so I went and got the other mom and swapped them out. And things worked better with her.
Then, the first mama went back to sitting on eggs and a couple of days later, there was a chick sound under her! But, I didn't want to set her aside with just one chick if possible, so I took this third one and put it with the first two, hoping the mama wouldn't reject it, and she didn't, and so here are the three she's been taking care of: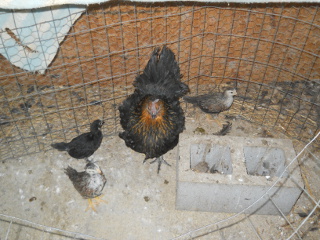 And then, I put the other mama and the rest of the eggs she was sitting on in the barn in the mini chicken tractor, and then she hatched out two more!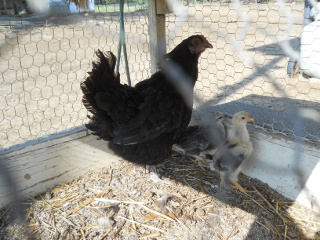 And here is a video of both groups:
As always, we are very thankful to God for providing these offspring and provisions!
— David