With the loss of our gander Augie, I figured it's just not right for Gigi our goose to be alone. Plus, they cost basically nothing to maintain, and can sometimes alert when some things are not status quo around the farm.
And so we kept an eye out for a mate for her on one of the internet lists.
And recently, the Lord granted we find one fairly close by! Yea!
Apparently a young Chinese-breed gander, we went and picked him up and introduced the two, and they quickly became "an item"! Yea again, and thanks to God for both!
And we decided to name him Gustav (Goose-tav 😀 ). He reminds me somewhat of Gary, in the way he looks and sounds. Fond memories of Gary. 🙂
Anyway, here are a couple pictures of Gustav and Gigi, with him on the right: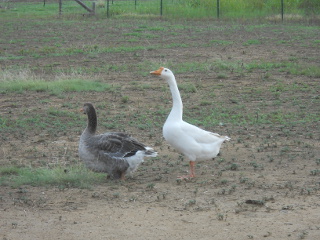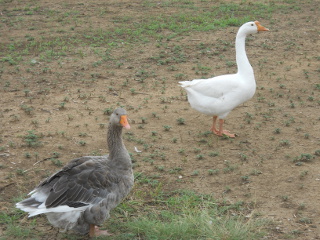 And then a video of their introduction and them getting to know each other:
They continue to do very well, hang out all day together, and we've even seen Gustav act in a way that looks like he's protecting her. 🙂
Again, we are thankful to the Lord for granting Gigi a mate so she won't be alone, and that they were very quickly like old friends! We pray they might benefit the Church and perhaps the farm in some way.
— David