Back in November of last year, it came time for our annual goat breeding season — when we put the females with their respective males — in hopes the Lord grants goat kids in the Spring!
Well, indeed God graciously did, and here's a little update…
First, over the Winter we lost one of our favorite does, Hannah. She succumbed to something pretty quickly over a day and a half or so. She was one of a kind — sometimes we called her Houdini, because she would be hooked up to the fence line or in a shed, and Sue would turn around to do something, and then Hannah would walk up behind her. And so, Sue would hook her up again, and turn around, and not long after, again, Hannah would walk up! 🙂 She was also our most LaMancha breed of the females we had, and I had wanted to keep one of her female offspring, but the Lord in His perfect wisdom and goodness had other plans. But, we are thankful for the time He granted her to be with us, and the offspring and milk from her over the years. We miss her! This is she with her kid from last year. Bye Hannah-bo-banna…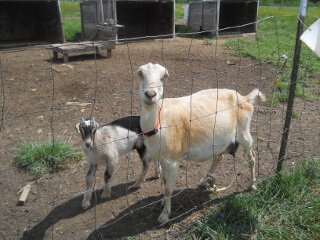 But, continuing on, we try to time it in November so the kids are born when it's past the cold, but we had later cold this year, so it was goat coat time! 😀
Here are two of the bucklings in a barn stall with their mommy Nellie: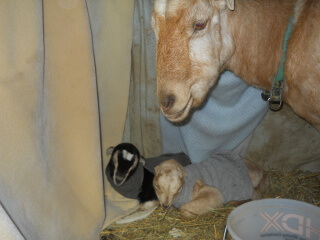 And Annie with her triplets, two bucklings and a doeling. With this one, the first kid started trying to come out back (not back end, but back) first! So, Midwife Sue got in there, spun the kid around to get hooves heading out, and then Annie was able to deliver that kid, and then kids two and three came out shortly after (we show just after kid three was born in the video below). Wow! Thanks to the Lord for helping Sue and for granting the safe deliveries!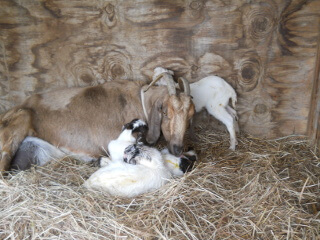 And Adeline with her two bucklings: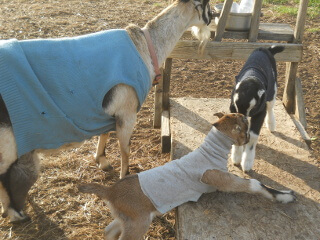 Finally, Lucy brought up the rear this year, although sadly she gave birth to two underdeveloped, stillborn kids (last year, she aborted all her kids prematurely). And the little doeling that was born was pretty feeble, so Sue syringe-fed her mama's colostrum for a couple of days. But the Lord saw fit to keep the little one going and get stronger, and she ended up doing just fine, thanks to God!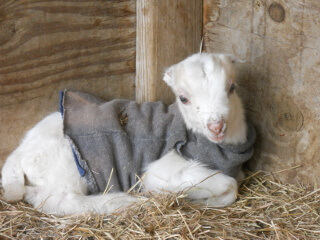 Here are a few more pics: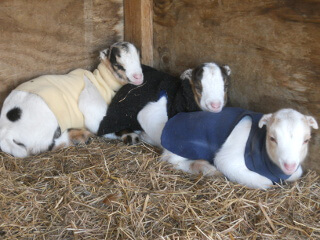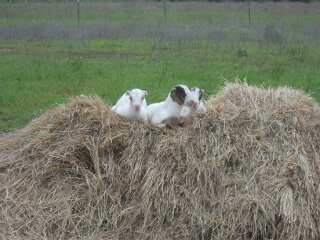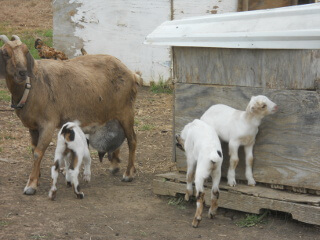 To start to replenish the herd, we decided to keep the two doelings, so they are officially part off the group now, Hassie and Lilly (you can see more of them in the video below)!
Lastly, here's the video of them all for this year (BTW, in the video, one of the females we're keeping isn't "Haddie", it's "Hassie" 🙂 ) :
We are very grateful to God for these continued provisions; the milk He grants from them (which is why we raise goats); again, the safe deliveries for the moms and youngin's, and His guidance for Sue as "midwife"; and for granting continued perpetuation of the herd!
— David