Back in September, with some recent truck transmission issues, I had put some "goop" in there to try to help with the shifting. And with that, I wanted to take the truck for a test drive to see if it was helping.
As I was heading to the front gate, I had pretty much decided to turn left and head that way. But, as I got to the gate, I thought, "No, actually I'll just head to the right." I had no reason to change my mind on that, but just did. Well…little did I know…….
As I proceeded down the road, I got down to the bridge that goes over a creek, and as I crossed over, lo and behold, off to the side just off the road were a whole pack of puppies, just sitting there. A bunch of them. 9 actually, in the end. Whaaaaatt? What was this? I thought, oh no, someone just dumped them, which happens out in the country a lot. (Opinion of those who do that: Jerks!)
Well, I kept going. And actually, shortly after that, the truck transmission started working nicely again, so I was thankful to the Lord for that.
But, when I got back home, I had that little surprise announcement for Sue as to what I found. 🙂 Neither of us could just leave them, so while I had to be on a work call or something, she ran out to see if she could gather them up in the car.
When she got back, she said she had been unable to get a hold of them, and so we packed up some cages in the truck, took some soft food, and headed back out there.
They were still all there, and here are some of them at that place: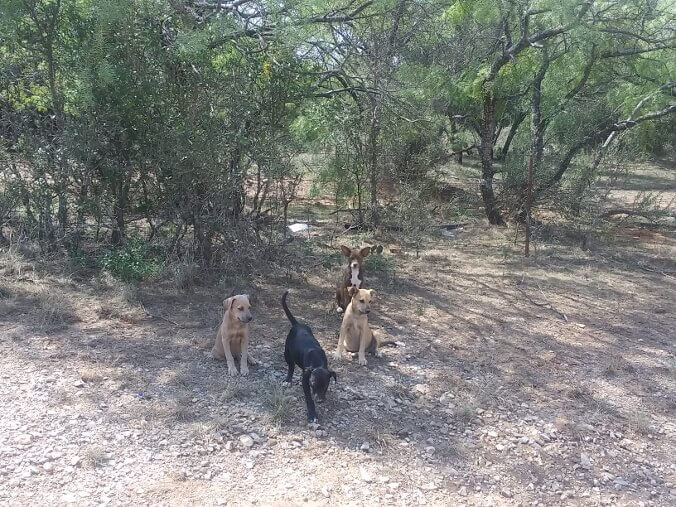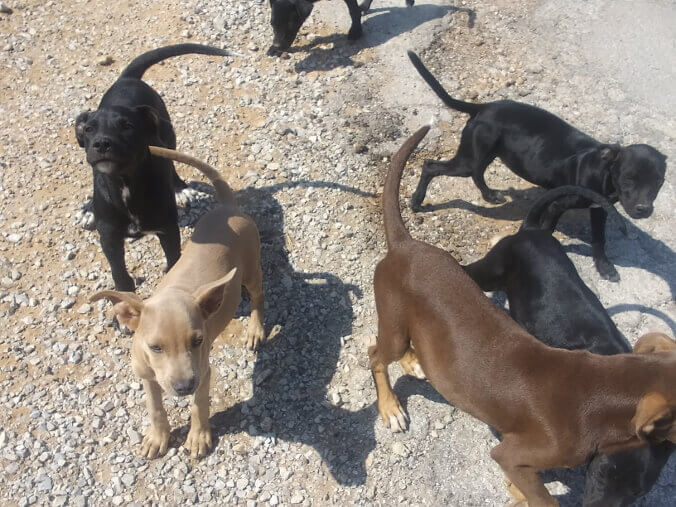 The food had the draw we hoped it would (we figured they were going to be pretty hungry), and one by one, we gathered them into the cages.
Lastly though, there was one that went down to the creek bed and just laid there in some shade, and I thought he was just going to end up running away once I got down there. So I went with some food to him, and he just ended up laying there, and I petted him and then just picked him up and took him to the truck. Interestingly, he ended up just being a really mellow dog…we nicknamed him "Chill". 🙂
And, there was one more, a really scared one hiding in the woods. So, I took a plate of food and worked my way to him, and enticed him with the food close enough to where I could get him, and was able to, and then bring him to the truck as well.
So, at least we were able to get them all. But now, wow! We have 9 puppies to do something with. Thankfully we have a big dog kennel in the barn, so that was going to be their new home, while Brodey could hang out in the outdoor one, at least until the weather got colder (see the above pic too):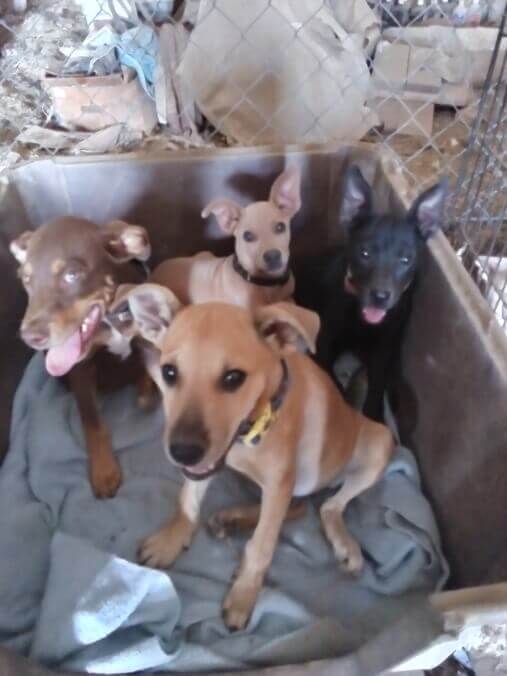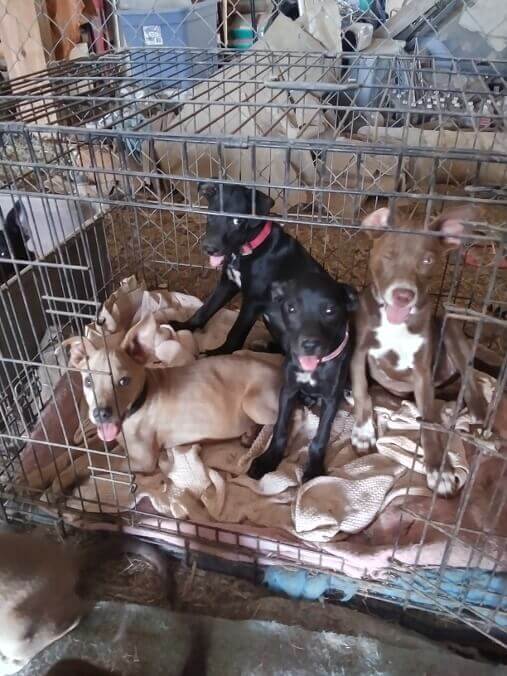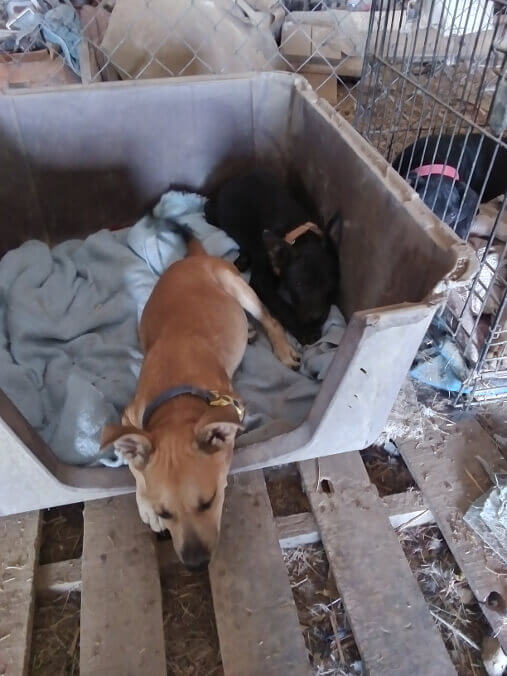 We started trying online to find an owner, but when that wasn't happening, it began the process of trying to find them all good homes. We tried online, and sitting with them in the back of the truck downtown, and even at the yearly street festival: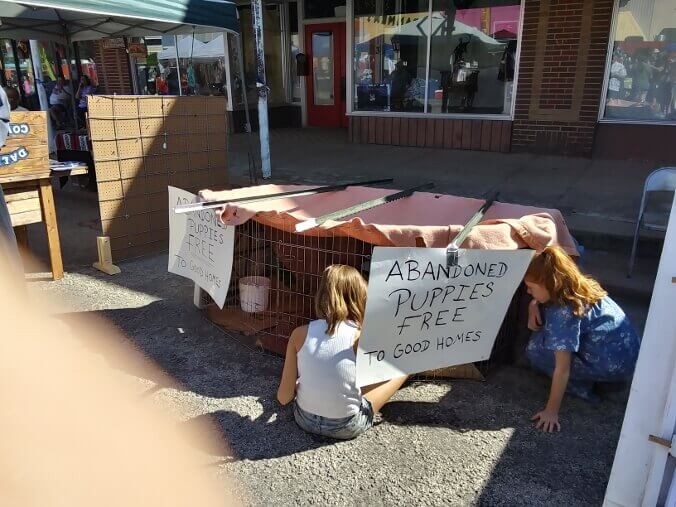 Amazingly, some times when we had them downtown in the back of the truck on a Saturday, people couldn't take a dog with them, but offered finances to help in feed and taking care of the doggies. People were extraordinarily kind and gracious in those things, and we took it as help from God in paying for this unexpected added expense.
A few stories:
One of the girl puppies was popular, but twice God spun around her being taken by someone that was almost certainly going to take her, and actually we were thankful because those 2 households we thought probably just weren't best. The first was at the festival above, with a lady and her husband, who were worried the dog was going to poop up their house, and if she did, we were going to take her back. Well, they were sitting next to the bandstand with the doggie, and when the drummer started kicking his base drum for sound check, it scared our little girl, and she pooped on the lady right then, and I asked the husband if he wanted me to take her back now, and said, yes, take her back now. 🙂
The second was when we were downtown in the back of the truck. Two ladies said they wanted her, but were going to grocery shop and then come get her. It didn't seem like a great fit in our minds, but we left it in God's hands, and when they came back, almost certainly to pick her up, they indicated they were worried their neighbors would end up killing her, because apparently that's how their neighbors are potentially. So, once again, 180 degrees the other way as to what was going to happen.
One thing we have done with every taker is offer to take the puppy back if it didn't work out. "Chill" was taken by a lady, but the stress of taking care of a puppy was causing health issues, so after us thinking we had lessened the load for us, he ended up back with us. 🙂 But, he has since found a new place.
And then, one we call "RC" right now (Red Collar, which was actually the one I had to dig out of the woods when we first found them), went to a home, and he apparently snapped at the husband a few times one day, and because they have smaller children, they got worried, so we took him back too. We had not nor since have we seen that kind of behavior from him, so we don't really know what that was all about. When I come up to him, he just rolls on his back and lays there. 🙂
Now, fast forward, over time, either with someone we knew, or from the back of the truck, we've been able to re-home 5 of them, and we still have 4 left. We let them run in one of our gardens. They do a great job with knocking down all the weeds, although they've also dug down deep enough to get to one of the goats we buried there, and have snacked on her bones. :/
Here they are, left to right Mollie (named after molasses for the color and being so sweet! 🙂 she was the one kept from going to those two households above; she rolls on her back a lot too 🙂 ), RC (in front), Oliver, and Yapper Dan (he was yappy early on; he rolls on his back a lot too 🙂 ). We're still trying to come up with better names for RC and Yapper Dan 🙂 :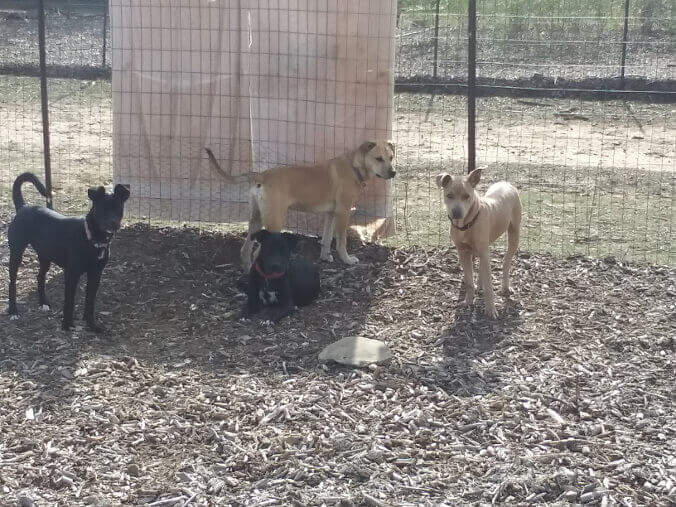 The only other issue has been them getting free. We were hoping they wouldn't chase chickens or the like, but sadly we've had some casualties already, so we have to be diligent in controlling them.
Anyway, that's been our adventure these last several months. We don't know what God's purpose is in any of this, and we really can't keep 4 dogs for ourselves, we don't believe, but with colder weather now and them getting bigger, we're not sure what to do. So, we've been continuing to pray for guidance and have started to put their pictures up at some places downtown, although, we're also growing more attached to them all the time, and they're all very sweet doggies. 🙂 Hopefully the Lord will grant them good homes at some point, and guide us if we are to keep any ourselves or not. 🙂
— David