Now that we had the land, we started to consider the fact that we had no place in which to live once we got there. Dave began a series of trips to go and prepare the land for our permanent arrival.
He flew to Texas the first time to search for a good farm truck to have as transportation and to be able to haul anything we might need, including where we were planning on living (see below). (His convertible just didn't seem very practical for this new lifestyle — we tried to make it work in our minds by envisioning the top down on his convertible and cows in the back seat with the warm summer breeze blowing through their horns, but then we realized the "cleanup" would just be too much. So he had decided to sell his car in California and leave it behind when we moved and that a farm truck towing a cattle trailer behind it might be a better idea.) After much searching by Dave and Michael, they couldn't find the right truck. Dave's time was almost up there (he needed to catch his flight back), and on the return drive of the last time they would be able to look, the Lord granted they run across a nice, sturdy Red Ford F250 diesel truck at the right price. And right there on the car lot another redneck was born – YeeeeeeHawwwww!! (That's Michael to the left side of the truck.)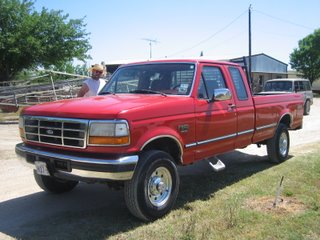 After much thought, we had also decided it would be better to concentrate on getting our homestead up and running; and a house then, should the Lord ever allow us to build one, would be lower priority. So we decided a camper would probably be our best option since we knew we may end up living in it for several years, and it would provide immediate shelter upon our arrival. So Dave took his second trip to Texas, and he became the best friend of most every trailer salesman in the greater Dallas/Fort Worth area looking at all kinds of travel and fifth wheel trailers. He finally narrowed it down to one within our budget that he knew I (Susan) would be able to call home. He did a great job (and almost three years later now it continues to function beautifully and be a wonderful and warm shelter). We were living in a little cottage in California before we moved, so this was very comfortable and spacious to us. It's like a little apartment. What a huge blessing. Here are a few pictures – welcome to our home!!
Dave's third and final preparatory trip was to try to drill a well on the land with a home driller we were able to get. After three weeks of working at it, the guys were still not able to get a working well; and so they decided to stop and look at other possible water sources instead (which we plan to discuss in a future blog post, Lord willing); and Dave headed back to California.
Dave said during the times he was gone (which were the longest we had been apart since we had been married) that he sort of felt like a bridegroom going to prepare a place for his bride, as the Lord Jesus mentioned in John 14:2-3.
Finally, we have learned that we are told in the Bible to be content with food and raiment (1 Tim 6:8), and even the Lord Jesus had no place to lay his head (Matt 8:20) as He was probably the epitome of a sojourner on this earth. And so, we just wanted to say that we are very thankful for the Lord's provisions of the truck and shelter that He has allowed us.
— Susan