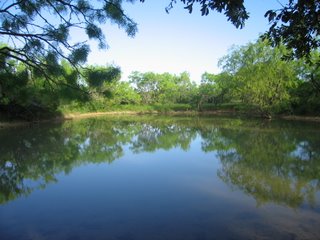 As I've mentioned previously, Lord willing, we wanted to be able to have 3 main water sources available on the land: the first was rain water, and the second was surface water. Our section of the property had a pond (tank) on it under a beautiful oak tree (seen here to the left). I thought though that perhaps it would be a good idea to expand this tank, as it seemed to be somewhat smaller in size; I was hoping to add a section 1 1/2 times the size of the original (making the new overall size of the tank to be about 2/3 of an acre), having trenches connecting the two sides with an island in the middle and bridges across the trenches. Also, I was hoping to make it big enough to be able to add fish to it as another food source. And so thus began the pond expansion project.
At first I started digging it by hand. Um…yeah. I realized soon that this would have probably taken several years of steady working at it to be completed. And so, it was time to rent the backhoe.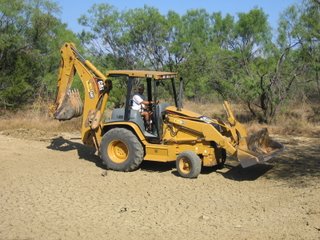 Here's foreman Gary telling me to get back to work!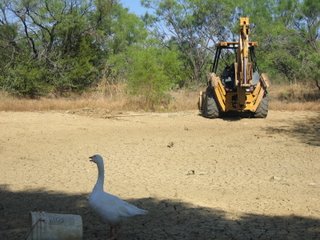 With me back on the job and able to accomplish the planned digging and dirt moving, here are some before and after pictures:
Before, the south side of the original tank, looking from the outside: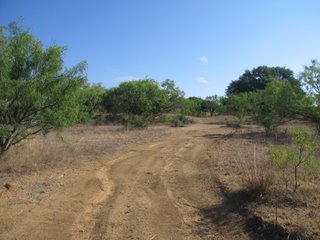 After, with the trenches: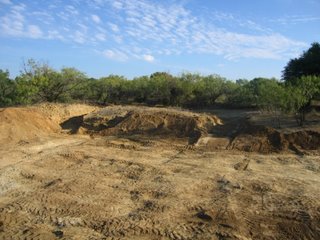 Before, facing west in the new area: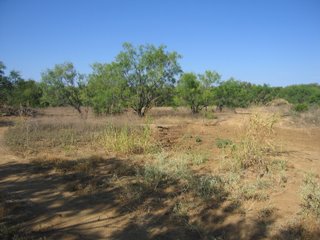 After, facing west in the new area: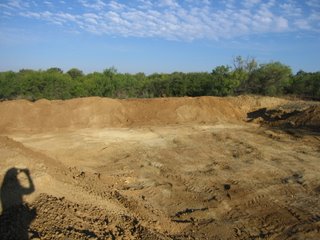 Before, from the new area facing the oak tree: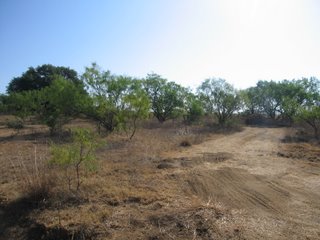 After, inside from the new area facing the oak tree: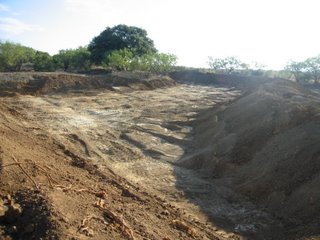 After, outside from the new area facing the oak tree: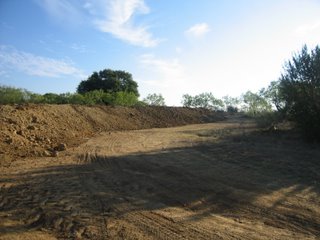 And here is the original, now more dug out, area after some rain: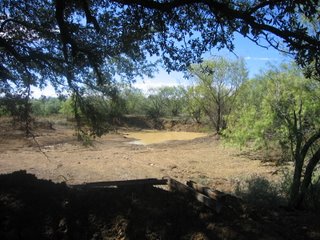 And here the new area after that rain: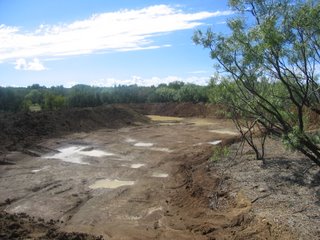 It rained quite a bit last year and the Lord graciously filled the new area up to about 2 feet from the top of the draining side. However, with the newly placed dirt, much of it leaked through the sides at the bottom. I also need to go back and reshape some of the walls a little, now that I've had the opportunity to see the water levels around the banks. And so, we are praying that eventually the dirt settles and that the Lord over time graciously fills it back up, granting us this second resource for water and hopefully another source of food.
— David