We have already discussed two water sources which we had hoped to have here on the land: catch water systems and ponds (tanks). The third we had hoped for was to be able to have a well on the land, which is retrieving water that is stored underground, which is referred to as ground water.
Before moving down, we had purchased a do-it-yourself well driller; and after much travail, came up empty. And so I believe it was later 2006 we hired a local driller to come try to drill a well for us.
The drillers came out and asked where we would like to drill down. I had picked a spot that was somewhat between where we had planned to put a house and where we planned to put a barn, near the south fence of our fields. Those were the criteria, which obviously wasn't much in the way of improving the possibility of hitting water, especially when the drillers still charge a per foot drilling fee regardless of if you hit water or not. But we didn't really know of any other options, and so we proceeded.
Here is a picture of the drillers drilling: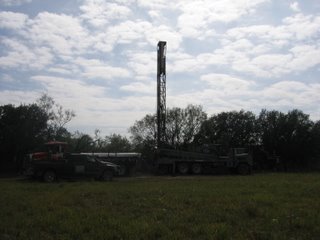 Now, apparently hitting water out here, and hitting good water, is quite iffy. First, from what we've heard, there isn't a lot of ground water available, and we are not located on any aquifers. Plus, with all of the salt water pumped into the ground during oil drilling processing of the past, the water could be unusable.
Well, as God would have it according to His graces, mercies and provisions, the drill hit water somewhere around 140 feet, and the fellow running the drill was able to taste a little and said it was pretty good water! They drilled down a little further and cased the well. Later, we were able to put a pump down it powered by a diesel generator, and thusly the Lord most graciously had granted us a working well on the land. We have since also purchased a deep well hand pump to be used if we are unable or unwilling in the future to run the generator or get a replacement pump if either fails.
At first, the well seemed to pump out an unlimited amount of water, and we got used to having that much available. It seemed we started to become a little complacent in our thankfulness for the water. Eventually though, the amount started to be limited, and I began to worry about having enough water. However, at some point, Sue, the wonderful help-meet the Lord has granted me, stated that apparently the amount of water the Lord granted from the well on a given day is exactly the amount He has provisioned for us for that day. This certainly rang true with me, and through Sue He has helped me trust Him more in regards to water from the well. We have since seen several times where the amount of water we thought we needed for the day for animals and the like was just about the exact amount that did come out of the well, and there have been times when what we thought we needed didn't come out. Either way, now we try with God's help to make sure we are continuingly grateful for and content with the water resources of the well that He has granted.
And as I mentioned in the first Storing Rain, we are also very thankful to the Lord Jesus for the spiritual water of life that comes from Him.
— David