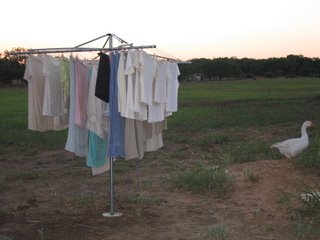 Dave and I lived in a cottage behind our landlady's house before we moved to Texas. We weren't able to have a washer and dryer in the cottage so we had a standing laundry mat "date" every other week to get it all done at once. I very much liked the fact that you could get all of your laundry washed and dried in a matter of two hours once every other week!
For many reasons, our ultimate goal here in Texas is for me to be able to hand wash and line dry all of our laundry. Setting up a homestead has been more demanding than we could have imagined and hand washing/drying the laundry has been pushed down on the list of priorities many times. It has been too easy to bring the bag of quarters into the laundry mat and take care of everything the automatic way. My mother-in-law had given me a wonderful outdoor clothes line before we moved, and it has been patiently waiting to be utilized. We were waiting to move onto our own land to set it up; but now that I didn't have that excuse anymore (by about 10 months), we figured I could at least be drying most of our laundry. So Dave set up the line several weeks ago, and I am sorry I didn't start it sooner! Thank you, Mom Sifford, for your gracious gift and foresight in knowing how critical this would be to our homestead life!!
We are now very familiar with the variable and strong winds here in Texas, so we knew the base of the clothes line had to be extremely secure. Thusly, Dave made two round metal forms and poured concrete into them to create a two-level anchor base and dug a hole to place it in the ground so as to make it portable if we need to relocate it.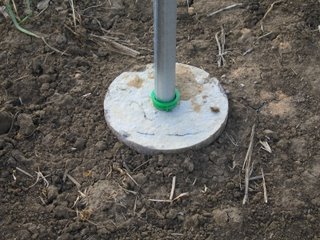 The clothes line opens up very nicely when I'm ready to use it: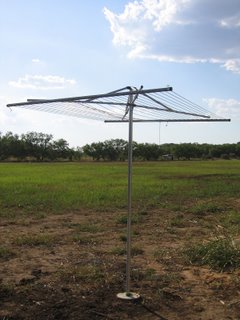 and then closes back up when I'm finished with it!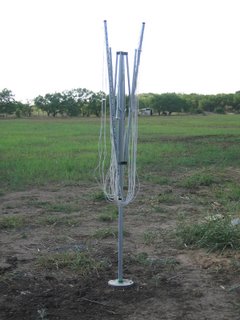 Surprisingly, I have really enjoyed the experience of being outside hanging the laundry surrounded by the peace on the land and fresh air, etc., rather than being in a hot, muggy laundry mat. I realize come winter that it may not be as enjoyable, but we didn't choose this lifestyle for the sake of comfort and convenience: it was out of obedience to God and His Word, so there is joy and peace in any homesteading chore with that being the case.
I am currently researching wash tubs and wringers to start washing much of our laundry here on the land. Thanks again, Mom Sifford!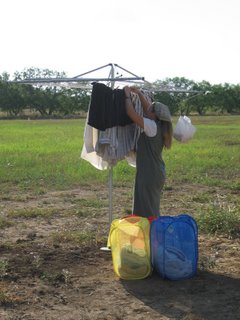 Susan