In trying to separate from dependence upon the world, we are hoping and praying that the Lord will perpetuate our animals here, so that we may have ongoing provisions, according to His will. These will be updates on any the Lord has graciously granted.
Chickens
The same hen that has gone broody every year so far did again this year. A hatching cycle is 21 days, and you can almost set a clock by it. She sat through one cycle of our eggs with no chicks hatching. Last year she sat through another cycle of eggs that didn't hatch before we borrowed eggs from the Bunkers to put under her for her third cycle (which worked last year). This year we didn't wait, and the Bunkers graciously allowed us to have some more of their eggs to put under her in the second cycle. And sure enough, the Lord graciously brought forth 2 chicks!
Here they are still pretty new: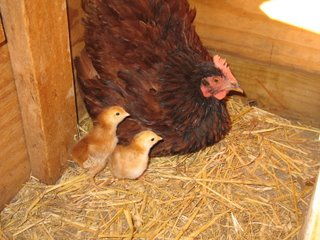 How's that for a blanket!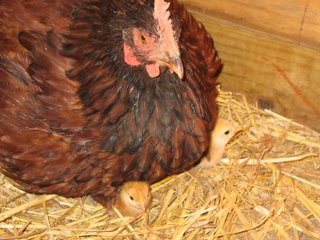 Here they are recently:
"Momma always says…"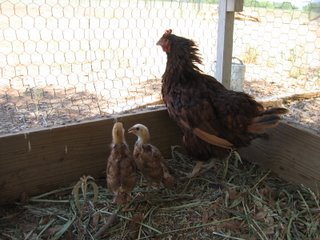 "'Life is like a bag of hen scratch. You never know what you're gonna get.'"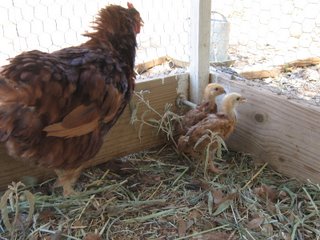 Taxi, please!

Goats
Here's the latest of Winnie and Minnie: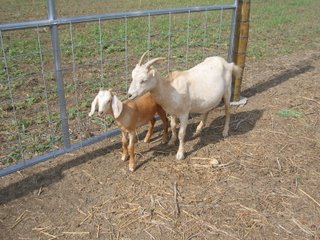 Don't let Minnie's mature act here fool you in this up close and personal moment – she still likes to jump all over Sue's back:

Pigs
The Lord graciously granted our female pig to give birth to 5 piglets mid June. In His wisdom though, one was still born, and 2 more died within a week or two. However, again by God's graces, we still have two healthy piglets running around, both which we believe are females.
Here they are lined up for a photo op: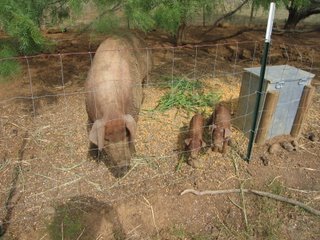 And here's up close and personal with the pigs, although I think a little too up close and personal for the sows liking. In the second part of the video though, I got smart and recorded from the outside of the pen:

Actually, I think she thought it was watering time. 🙂
Once again, we are grateful to the Lord for His provisions!
— David