We had a drought last Summer and Fall which really affected the quantity and size of many of our garden vegetables. The time came to harvest our red cabbage from our 2008 Fall garden, and the heads were small and did not really look like cabbage heads but more like a bunch of leaves loosely wrapped around or falling away from each other. Dave said we had to at least try to do something with them. Our neighbor, Michael, mentioned you could make sauerkraut with cabbage, so we thought that might be the best way to go.
I looked up the simplest recipe I could find and hoped for the best.
Here is the cabbage in our garden waiting patiently to be harvested by its novice owner (pick me, pick me!!)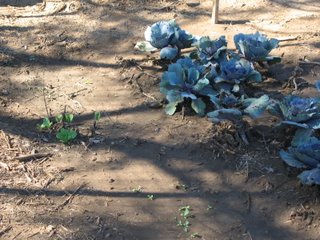 I washed all the cabbage leaves and cut them up with a knife because they were too loose to shred with a shredder or grater. I put the leaves in two 9×13″ pans, added the proportionate amount of pickling salt, and mixed well with my hands. There wasn't much moisture to be drawn out of the leaves, so I had to add a lot more water when putting them into canning jars. After about 24 hours +/-, I prepared pint canning jars and filled them up with the cut-up cabbage leaves adding water, leaving 1″ head space, and screwed on the lids. I followed the instructions to put the jars into a pan (or lined box in my case) because as they started to ferment, there was some (not much) overflow leakage.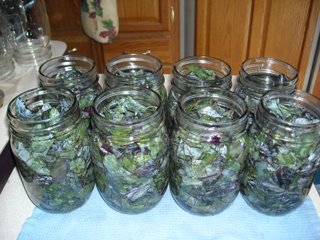 Then I stored the jars at room temperature for six weeks and turned them upside down several times over the course of those weeks to distribute the brine and keep everything moist.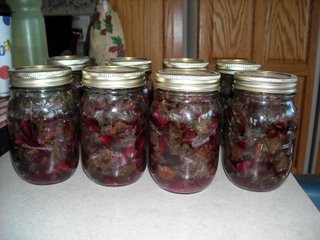 At the end of the six weeks, I opened up all of the jars and emptied them into a large sauce pan, simmering them for about five minutes. Yep, it smelled and tasted like sauerkraut, although it was very dark green and more coarse than the kind you buy at the store. Although turning the cabbage into sauerkraut is a preservation method in itself, I proceeded to can the pints of sauerkraut and put them down in our root cellar in order to preserve them for as long as possible. Since we are not generally sauerkraut eating folks, I needed all the time I could get to figure out more ways to fix it!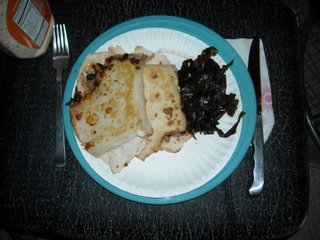 Wow! I couldn't believe that we were able to make sauerkraut and preserve it from what appeared to be pretty lifeless leaves. What a wonderful blessing! I'm very thankful to be learning these valuable lessons in food preservation and to be able to witness God's direct provision from planting to our table.
Susan