The Lord has granted that our doe Winnie give birth to triplets, all males. Please meet Athos, Porthos and Aramis. This is Winnie's second litter, and our pure-bred Nubian buck Shatner is the sire: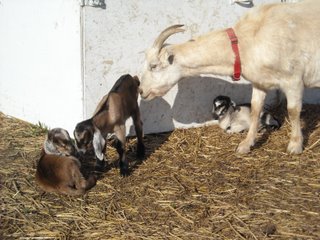 Here's an introduction to them:

And the next evening them getting around (I'm a little out of breath at the beginning after running to get the camera):

We are once again grateful to God for His provisions of these goats, and the health He has graciously granted them and Winnie thus far.
— David