Part of the house design was to have a root cellar/storm shelter in the vicinity. I wanted to have house access to it so it would be quick and convenient to be able to get into in an emergency. In thinking about designs, I had hoped to not interfere with the layout of the foundation piers as much as possible. And so, the plan was to dig out the main area of the cellar under where the porch is to be, have the landing area go between two piers, and then have the entrance way under the actual house structure; this would allow for the cellar to be covered by structure (the porch), easy entrance from within the house, and the foundation to continue to be laid out as it was without having to add piers or other modifications to it.
I decided to hire a contractor to do the digging, partially because the hole needed to be dug fairly precisely since the landing was going between the two piers, and also so I wouldn't have to deal with damage that might happen to the equipment. But, after several weeks of delay with an inattentive contractor, I decided to just rent a backhoe and do it myself.
And so, here I am starting the digging process:
Well, not more than a few feet down I hit that rock layer that I've been setting the piers on. I thought for sure I'd be able to get through it with a backhoe, but one by one the teeth caps on the backhoe bucket started to break off. I went through several before stopping. We thought about it and then came to the conclusion that it wasn't worth proceeding because more possible damage could happen; I could possibly disturb the ground under the piers, thereby potentially weakening the house structure; and we already have a root cellar/storm shelter. So I filled back in what I had already dug, and parked the backhoe.
We had to pay for the damages, but the folks from whom I rented the backhoe went out of their way to help us. We rented from iRent in Brownwood, TX, and Milt the manager there really helped us in diminishing the fees as much as possible. He was a breath of fresh air in customer service, especially given our experience with the local contractor noted above.
I lost about a month of time with all of this but have restarted the foundation building process, and here is where it is currently…only five piers left!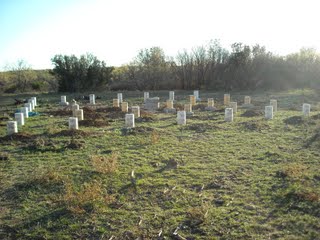 Thanks again to Milt at iRent for his excellent customer service; and we again thank the Lord for His graces, mercies, wisdom in and sovereign power over all circumstances.
— David