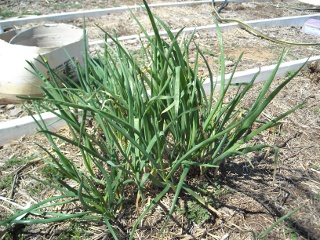 I sit here writing this blog post on the first full day of Spring 2010. Wow, I never thought I'd still be writing about our Spring 2009 garden! In it, we planted onions; and they have been going strong through the wettest, harshest winter we've had since we've lived here in Central Texas. I had picked all of the green onion stems off of the onions last summer in order to dry them in our solar food dehydrator, and decided to leave the remaining onions in the ground and pick them as needed as we entered into Fall. In actuality, once everything else in the garden had come to its natural end, I forgot to go out and pick the onions much of the time. Then, mid-way through winter, Dave noticed there were green onion stems (aka: scallions) that had grown back long and healthy. Boy, talk about a gift that keeps on giving!
One recent evening I went out and pulled several onions when my supper dish recipe called for it. These bulbs are much smaller than regular onions you buy in the store, but the taste is delicious and robust. I was pleased and surprised with how well the onions had survived through Winter, and with the bright, healthy color and texture that had been maintained: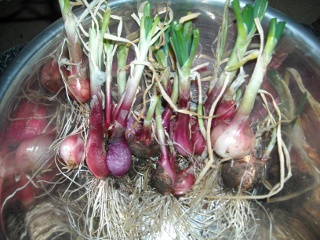 You really do get two vegetables for the price of one with these onions. The green onion stems are potent with their own milder onion taste. They also looked green and very healthy. It's amazing how some garden vegetables are so fragile when severe weather comes; and others, like these green onions, seem to thrive: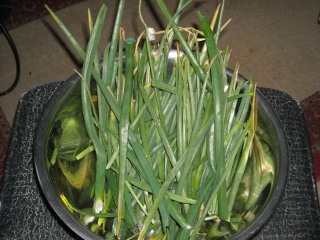 I didn't want to waste any of the green onions, and the weather we have been getting has been too overcast to use the solar food dehydrator much of the time, so I decided to put them in the oven overnight to slow dry. I cleaned and cut up the green onions and put them on a pizza pan sheet, set the oven to 150 degrees (or thereabouts), and left them overnight. They needed to stay in the oven a bit longer the next morning; but the end result was delicious, crispy, preserved green onion bits! I have since used them in a few various dishes; and it adds a nice, subtle onion flavor: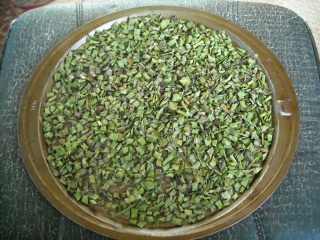 We never tire of giving our Father thanks for His direct provisions. And we pray He grant us strength, resilience and growth through times of the spiritual winters of His chastisement, affliction, or the lessening of His presence to teach us to desire Him more.
Susan