Last year, our goose Gigi laid a clutch of eggs in a nest she made behind our main, inner fence area. With all of the critters running around at night looking for a delectable morsel, such as a goose, to eat, we couldn't let her continue to nest back there; and so, we tried moving her eggs into the barn, where she and Gary are put at night. Sadly, that didn't work as she showed no interest in sitting on them; and so nothing came of the eggs she laid.
Also last year, I had put together a couple of palettes on their sides, end to end in a right angle to use as a separator in our goat sheds to keep kids away from their mother over night to allow us to be able to milk the doe in the morning. When the milking had stopped, I moved it into another pen area to get it out of the way. Well, this year, Gigi decided to nest in the inside the corner of that palette structure. With it away from the back wooded area by maybe 150 feet, we figured this would be a fine place for her, if I could build up the structure to make it a shelter that would keep out critters if they discovered her presence up there.
And so, I did some work on the structure to enclose it for her, adding two more palette sides, putting some plywood on them, and adding a roof. This was to allow her to begin to have a more secure place in which to sit, but wasn't quite ready for her to be there all night, as it had many places for critters to get in. Then, one night recently, Gigi decided to sit on the eggs, even up to darkness, when we would have typically put she and Gary in the barn. And so, suddenly she needed the finished product available to her. Sue and I grabbed some spare wood, and we worked to finish sealing it up as best we could. Gigi sat there the whole time we shored it up too. And here is her completed nesting shed:
However, the next morning, she decided to not nest anymore, and hasn't tried to again in the evening since; but now she has her place ready, if she decides to again sit.
This is a look at her clutch of eggs: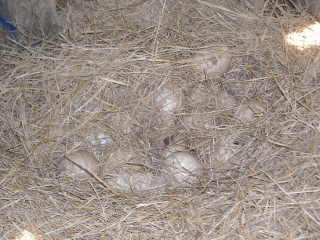 And here she is another day actually on the eggs: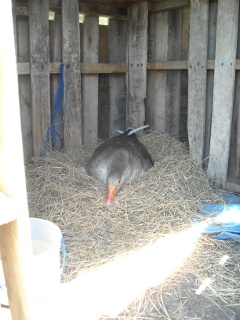 It would be neat if the Lord granted some goslings, although it appears that since Gary and Gigi don't have access to a real watering hole (like a pond), and they seem to mate when they're in the water, I don't know if they've actually connected; but we'll see what happens.
We're thankful to God for allowing us to watch this process, and for ordaining that Gigi would nest in a more secure area.
— David