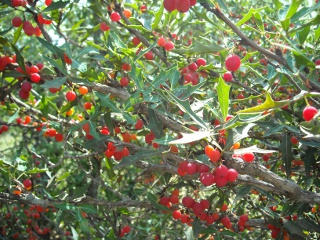 In trying to live off of the land, we have learned to consider ways that God via the land already provides. There are quite a few native edibles out here, one being Agarita berries. They are small, red berries that ripen around this time, and can be fairly sweet if gathered at the right time. Even a bit tart, they're not too bad.
And so, we decided this year to pick a few, to take advantage of the gift off of the land the Lord has granted.
This is a picture of a some Agarita berry plants with fairly ripe berries: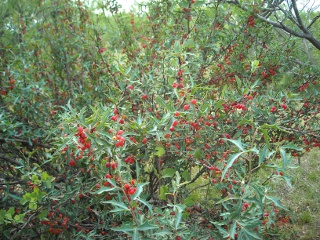 And here is Sue gathering the berries. The Agarita plant leaves have very sharp points, and will stick you and stick in you; and so, she is wearing gloves: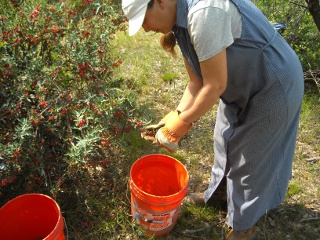 When we picked the berries, we tried different methods, including using a fork to pluck them off, but decided to try to just grab as many berries as we could, which seemed to be the quickest way. However, when it came time to clean them, Sue had to go through the lot of them pulling out those prickly leaves; and in the end, it might have taken just as long to pick and clean them as it would have to just pluck them cleanly in the first place. Thanks to Sue for her patience in somewhat painfully going through all of those. Gary marveled at her patience too 🙂 :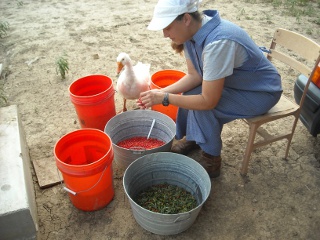 And here are the results!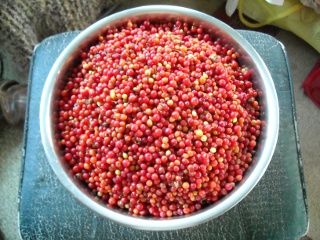 Since it's only Sue and I here on our homestead, we have to make a lot of priority decisions as to what we spend our time doing. Because of how long it takes to collect them, we didn't spend much more time doing that, although I went out one other time to try the fork-plucking method. And, to save time in the processing, and to continue to practice not relying on the world's fuels, we put them in our solar food dehydrator to dry them: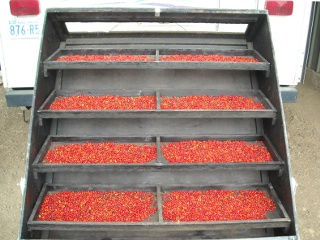 If you're interested, here is a link to some details about the Agarita berry plant. And here is the Wikipedia entry for Agarita berries.
We are grateful to God for His provisioning of these perennial berries here growing natively off of the land.
— David