Well, it's been a while since we've had some piglets born; but the Lord has graciously granted a litter to our gilt Missy. She was one of two that survived her litter, and was the smaller of the two, but was a fighter. She had a fairly large gash on her leg when she was young, but God granted her healing. Also, she got caught in a hail storm some time ago, which we believe was the cause of her ears swelling up like pillows. In researching the condition, there was basically one remedy suggested: lancing the ears.
That was fun. I took a folding disinfected razor blade knife out there with some hydrogen peroxide; and being this was the first time I had ever done something like that, I basically just poked it in. It burst, shooting out blood and fluid, which surprised me probably more than her. Sadly, that didn't do the trick; so over time I had to go at it again a couple of times; but I modified my technique by poking it in and slicing down. That sure got it bleeding all right. Also, each time, I chased her around until I could pour that hydrogen peroxide on her ear. In the end, that worked much better; and her ears haven't been swollen since; but they are somewhat deformed now.
Missy also took a long time to get pregnant. I believe we had her with two different boars, and several months with this last one; but after many estrus cycles, which we were able to track, they finally stopped.
Here is Missy (left) with the second boar Wilbur (right), borrowed from the Bunkers: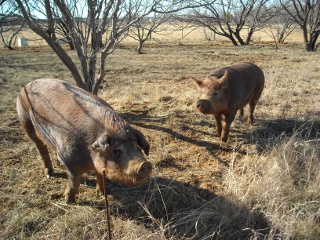 And here they are again, opposite sides: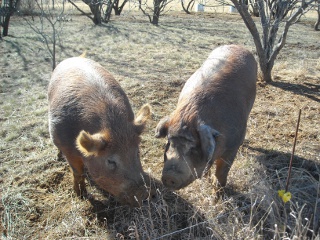 And sure enough, almost to the day (which is 3 months, 3 weeks and 3 days for gestation), 11 piglets were born, all alive. This is the largest litter we've had; and at this point, only two have died: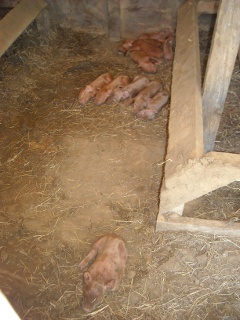 Here is their introduction video, taken around the time they were born:

And here they are two and a half weeks later:

We thank God again for His gracious granting of these piglets, a healthy delivery for their mother, and for granting her a good motherly instinct.
— David