Hens
Our chicken flock has been dwindling over time, due mostly to them just getting sick or dying, or getting crittered; and so we've been looking to find some adult hens or were planning on buying some chicks to get raising while it's still Summer hot here, since the chicks would not have feathers yet and would hopefully be able to make it without special heating. But, the Lord granted we find someone from the local town selling her hens for a fairly good price; and we jumped on it.
We ended up with a Buffy (Buff Orpington), a Rhode Island Red, two Game Hens, and a chick that one of the game hens was raising. Before we had a kennel for the dogs, we had kept them in our chicken pen area, which was our staging area for chickens we would raise that were too large for the chicken mini tractor but too young to be with the main flock. Sadly, the dogs had pretty much torn up the fencing; but I was able to add some chicken wire and do a little repair work and get it at least workable for the new chickens:
Soon we hope to start putting them in with the main flock at night so that the main chicken tractor will become their home.
Hannah
We've also been looking to sell most of our goat bucks; and in someone responding to our ad about them, initially wanted to trade a buck of theirs for one of ours, as I had also indicated in the ad that I was willing to do so for our outbreeding purposes. Well, by the time we communicated further about it, they had sold all of their bucks. But I thought, maybe they have a dairy doe they would trade one or more of our bucks for; and so I asked; and they were indeed willing to trade their supposedly pregnant Lamancha-Saanen doe for our pure Nubian buck Donny.
Here is the link to the blog post we did on Donny when he was first born.
And here he is now: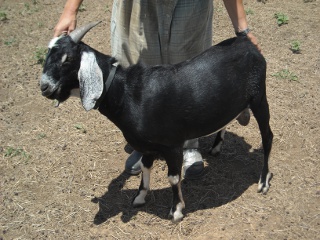 And here is our new doe Hannah. I'm pretty sure they disbudded the horns; and Lamanchas have the tiny ears, although hers are really small: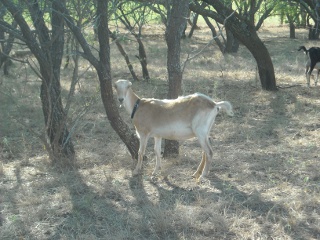 We thank God for His provisions of the new chickens and goat, and pray He grant them to serve their purposes here in bringing forth sustenance.
— David