Our goat Minnie (see Minnie in the middle of this blog post when she was first born) didn't get pregnant when she was with our buck Eastwood during the Winter (Eastwood died during that time). And so, we borrowed a buck from our neighbor Chris, a Spanish billy (see him at the top of this blog post); and lo and behold, new kids!
Please meet Desi and Lucy (we named them that because Desi Arnaz was kind of Spanish-ish 🙂 ):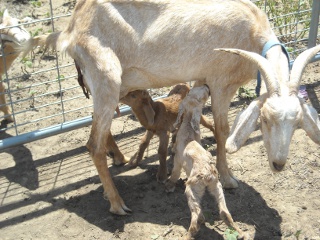 Here they are just shortly after birth:

And here they are today, three weeks later:

We are grateful to the Lord for the increase of the herd.
— David