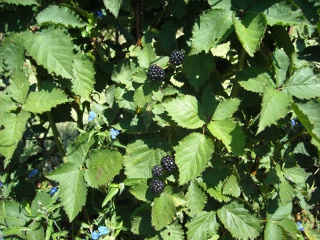 It was about 25 degrees outside this morning, so I thought no better time to think of the warmth of the sun and our trip to a blackberry farm last Spring!
Most of us from our community one day drove in a caravan to a local pick-your-own blackberry farm in Cottonwood, TX. Neither Dave nor I had ever been berry picking of any kind before, so it was a new experience for each of us. Here are some of our community leisurely strolling down one of the rows picking blackberries as they go: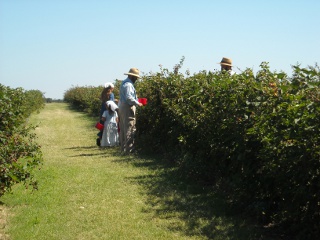 I was pleasantly surprised at how relaxing it was. Some of the bushes, however, didn't relinquish their berries without brandishing their thorny weapons; but I prevailed and took the valued treasure with just a little blood shed (ouch!) But it was well worth it: 🙂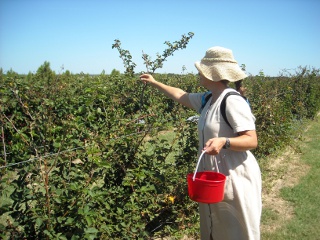 After a couple of hours, we had filled our buckets; and the farm owner and his wife weighed our haul and charged a very reasonable fee. Apparently, they also open their farm at other harvest times (eg. pecans, black-eyed peas, other fruit trees, etc.), so we look forward to perhaps returning again: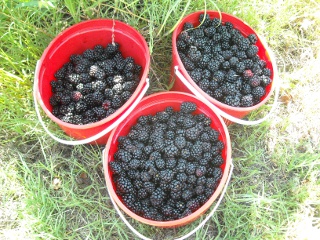 Afterward, many of us stopped at the farmer's little picnic area and had a nice time of food and fellowship in the cool shade: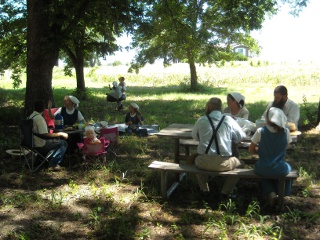 When we returned home from our lovely outing, reality set in; and it suddenly occurred to me that I had no idea how to make anything from berries; and we would probably get sick if we tried to eat them all before they went bad. Dave recommended doing something with them in the solar food dryer; and sometime just previously to that, one of our neighbors had suggested making fruit leather. Capital ideas!! So I did a little research online and gave fruit leather a try. First, I pureed some blackberries: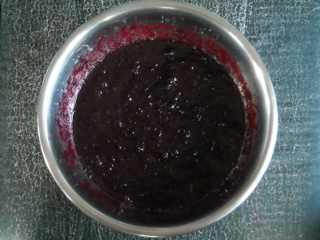 Then I poured the pureed mixture onto two sheets of waxed paper and shaped it into a thin layer on each sheet: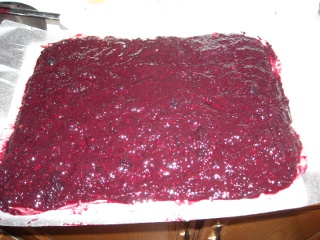 Then I placed the sheets out in the solar food dryer: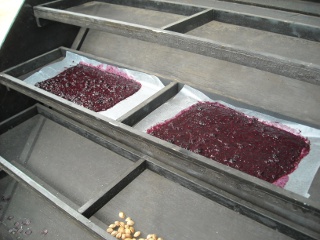 I can't remember exactly how long it took but not long (a matter of a couple of days in the hot sun), and the consistency of the blackberries was a bit sticky but dried where I was able to peel it off of the sheet. I then broke it up into small pieces to store in glass jars. It is December now, and I ate a piece yesterday that tasted fresh just like when I first stored it!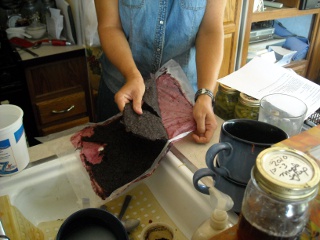 Then I took the remainder of the berries we hadn't eaten or dried and followed a simple blackberry syrup recipe using very little sugar: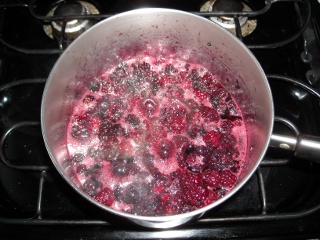 I was able to make several pints, and went ahead and pressure canned it (I forgot about the water bath option because I'm so used to pressure canning – oh, well 🙂 ). But it turned out fine anyway: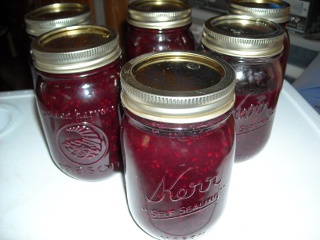 And we were able to have it on our whole wheat pancakes soon after. Delicious, and what a healthy change from the "faux" maple syrup sold in stores these days. It was more of a topping than a syrup but still delicious: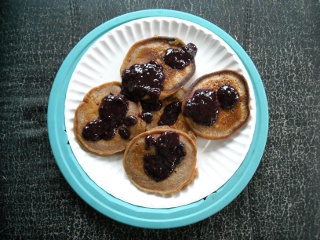 There is one thing I would do differently in retrospect. I was just trying to go the easiest and quickest route, and I didn't take time to extract the seeds. The fruit leather and syrup taste fine but are obviously a bit "crunchy." So I would definitely recommend removing the seeds; and I plan to do it next time, Lord willing. But we are thankful for such a wonderful opportunity to capture and learn to preserve more of God's harvest bounty.
Susan