Well, it has been a few years since several of us started living here on the land. When we first got here, all of the children were just that — children. But, after five years, as you would imagine, that's not exactly the case for all of them any more. In fact, one of our young misses just recently became betrothed — our first betrothal on the land!
Webster's 1828 dictionary defines "betroth" as the following:
BETROTH', v.t. [be and troth, truth, faith. See Truth, and Troth.]
1. To contract to any one, in order to a future marriage; to promise or pledge one to be the future spouse of another; to affiance; used of either sex. "The father betroths his daughter.'
2. To contract with one for a future spouse; to espouse; as, a man betroths a lady.
"Betrothed?" you might ask? Yes, betrothed. The ideas of "romantic love" and engagement, or even "courting," are foreign to the Bible; not that there can't be romance, but it is not the main driver or motivator behind relationships; and in fact, betrothal is what is prescribed in the Bible. Why might it be important to have betrothals instead of typical engagements? First, the Bible prescribes it as the only pre-marriage methodology; and second, it was set up as a picture or "type" of the relationship between Christ and His bride-to-be. In this current reality of time, Christ's chosen bride, the elect from the foundation of the world, is not married to Christ yet — that happens at the marriage supper of the Lamb (Rev 19:6-9). His chosen is betrothed, or espoused, as expressed in 2 Cor 11:2 – "For I am jealous over you with godly jealousy: for I have espoused you to one husband, that I may present you as a chaste virgin to Christ." God instituted the "type" of betrothal to show the unbreakable bond of His chosen bride to Himself based on His volitional, self-sacrificing, and unconditional agápe love.
Betrothal of Mark Contra and Tracy Bunker
With Mr. Bunker, Miss Bunker's father, making the original offer to Mr. Contra, and with Mr. Contra accepting, Mr. Bunker and Mr. Mark Contra formed the contract for Mr. Contra to marry Miss Bunker, with various other agreements between Mr. Bunker and Mr. Contra. Although not absolutely necessary, since an older and hopefully wiser parent, with God's help, should be able to determine which man would be good for a daughter to marry, Mr. Bunker did first allow for Miss Bunker's approval of the gentleman in question; and she did approve. 🙂
And so without further ado, here are some moments from Mr. Contra's and Miss Bunker's betrothal party: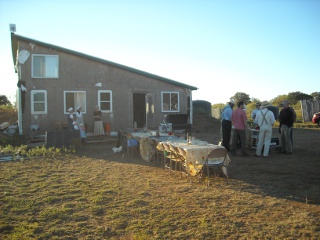 Mr. Contra and Miss Bunker: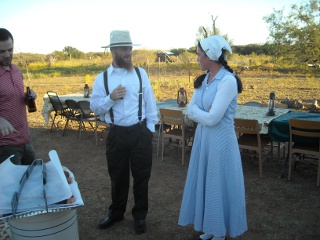 Supper time: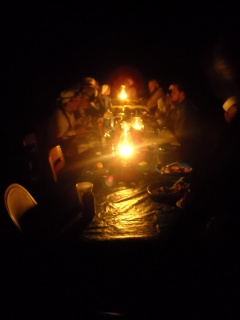 And don't forget the desserts!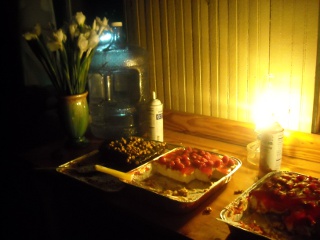 Here are a few more pictures of the fellowship time, starting with the new couple:
Here are some sights and sounds:

And some more, including Mr. Bunker's discussion about the betrothal ceremony and some important parts of the ceremony itself (please forgive the quality of the video as our camera doesn't film well at night):

We are thankful here on the land to be able to be a part of a couple joining in the way the Bible prescribes. We pray for many more, as the Lord wills, and that He continue to grant us understanding of His revealed will as described in the Bible.
— David