About three weeks ago, the Lord granted another set of goat kids, this time to our full Nubian goat Betsy. She gave birth to two little bucklings, which are also full Nubian; and we decided to call them Stanley and Ollie.
Here they are shortly after being born: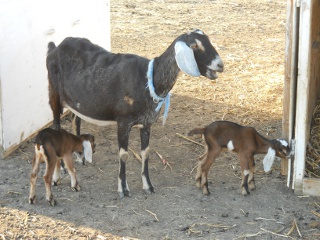 And here they are now (Ollie on the left in the first picture; Stanley on the right; vice-versa in the second picture):
And here's their moving picture:

Full Nubian Goat Betsy with New Full Nubian Bucklings Stanley and Ollie
We are again very grateful to the Lord for granting these provisions; and we again pray for guidance in raising them and continued provisions for the herd.
— David