In our last blog post on our 2011 garlic, we had harvested our first small batch; and I tried my hand at braiding it (which turned out to be very "trying"). Well, since then, we have harvested the remainder of the crop, which we did back in May; and we wanted to share a little more of the garlic processing process.
Here is Dave pulling the garlic plants from the beds and placing them in a big box: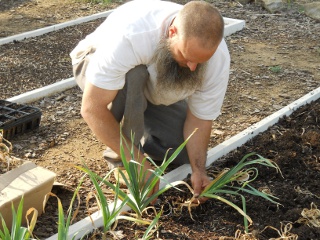 Wow! Our first garlic crop! It sure smelled good: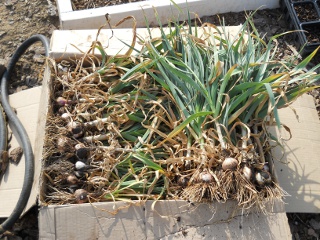 This time we did a bit more research before diving into it, which paid off. We laid out all of the bulbs in the indirect sun for a few days on our makeshift food dryer: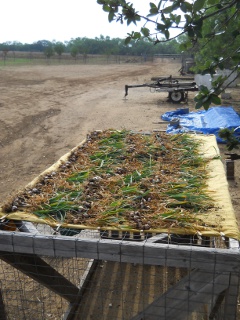 Here is a closer look: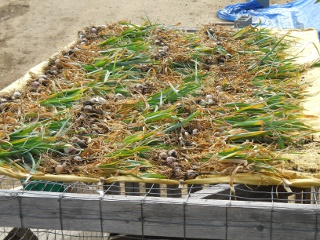 Then we moved it all into our summer kitchen in preparation to be braided and hung: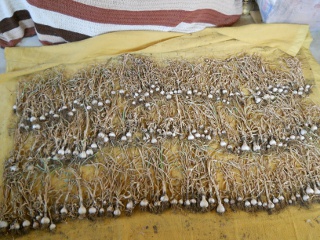 I was successful at braiding the larger garlic plants; but as I got to smaller ones, the leaves were just too dry and difficult to braid and handle. So I started gathering them into bunches and tying them at the top. I actually like this method better; and it works just as well, in my opinion. I then hung them on my garlic hanging stand (aka: clothes dryer). I was pleased with the end result: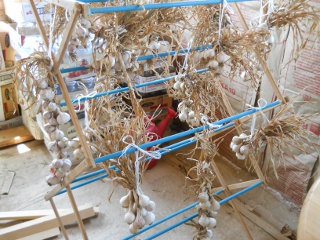 There ended up being many other small bulbs that either lost their leaves or fell off in the process. So I gathered them up and placed them in a small basket. I keep the basket in my kitchen, and it's perfect for grabbing as many garlic cloves as I need at any given time. And the garlic smells and tastes wonderful!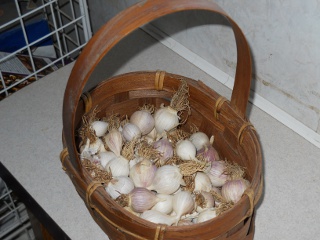 Due to the extreme drought we have been experiencing, this is the only garden harvest the Lord allowed us to have this Spring and Summer (in addition to a few tomato plants on which the jury is still out). We are very thankful to God for the gift of this garlic crop and look forward to possibly spreading our garlic "breadth" in the future. 🙂
Susan