With the drought this year, we've had to be liquidating many of our own personal herd of Texas Longhorn cattle. We've been trying to sell as many as possible, but we also raise the cattle to eat. With one of our cows, Catalina, there seemed to be no interest in someone buying her. She also was also one of our more rambunctious cows, in that, if she wanted to jump a fence to go eat something wherever, she would. And so, given that we couldn't control her anymore, and that she was getting into areas we couldn't have her, and that no one bought her, we made the difficult decision to take her to the butcher, even though she might be pregnant.
This was Catalina: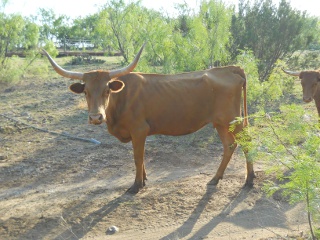 And so, after getting her back from the processor, Sue began the preserving process. When we use the butcher, we have them cube a lot of the meat into chunks all ready to go into the jars: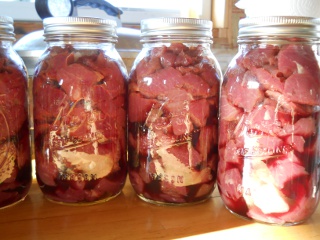 And here they are ready in the canner: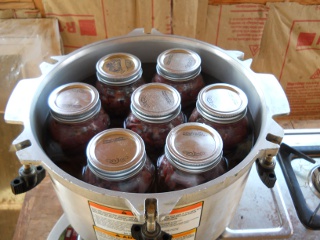 Here are some of the hamburger meat packages: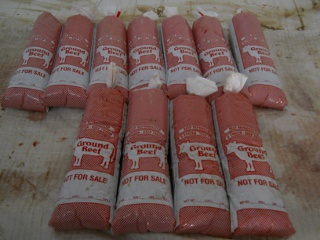 And Sue browns it before putting it into the jars to can, which apparently helps get extra oils/grease out which could overflow if not removed ahead of time: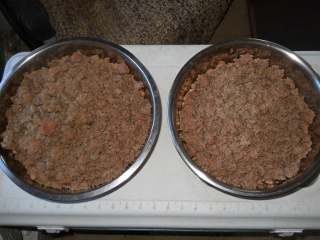 And here she is preserved and ready for the root cellar: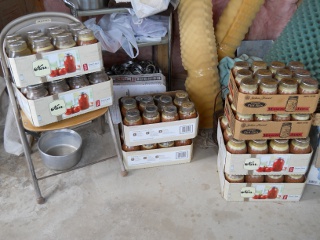 One of the benefits of the Longhorns is the use of other parts of the animal, include the horns; and so we had the butcher cut them off of the head, and hopefully I'll be able to turn them into something mountable some day: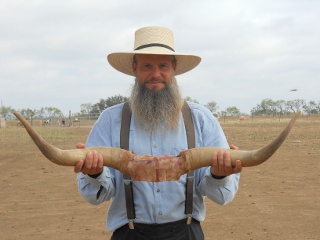 And so, after the processing, it was time to partake in the first one of our personal cows to be eaten!
One of the joys of living here is the fellowship, and we wanted to share in the further joy of the providence of the meat with the community. And so, we had Catalina burger night at our place!
Here are some of the grilled burgers: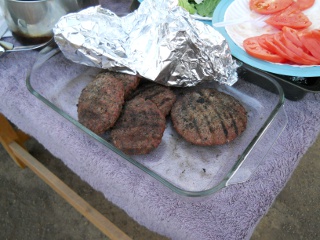 And the trimmings and side dishes, with which several of the ladies graciously helped: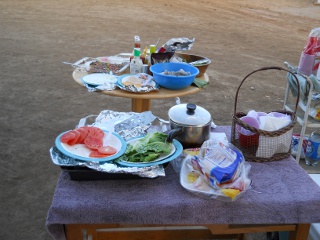 We are very thankful for the grace and mercy the Lord has afforded us in this general time of peace to be able to fellowship together, after enjoying His direct provisions:
We are grateful to the God of all providence in allowing us the healthy food from this organically raised, grass-fed cow; and we are thankful to Him for allowing us the fellowship and community He has here.
— David