Twice a year, the community, along with visitors sometimes, gather together to work as a group in service to our teacher, Mr. Bunker; it's also a time where people who follow the ministry or otherwise come down and visit and meet the folks here and work with us — something we call Ranchfest. We just finished up one last week, and I thought we'd share once again a few of the goings-on around the Ranch during that time.
We usually have a kick-off breakfast during the weekend Ranchfest starts: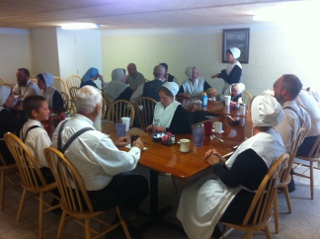 And then it's off to work during the week! Here we are gathering in the morning for coffee and a breakfast dish in preparation of the day's events: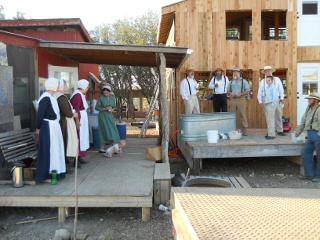 The men this Ranchfest were continuing to help build the Bunker family's new cottage, putting in windows, doors and putting up siding:
We also typically meet as a group for lunch break for delicious lunches provided by the ladies, and here we are gathered at the Community Center: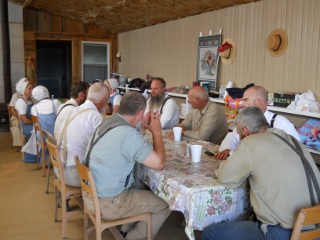 The group has generally been moving toward wearing more Amish-style clothing. Here is a picture of the progress for the ladies: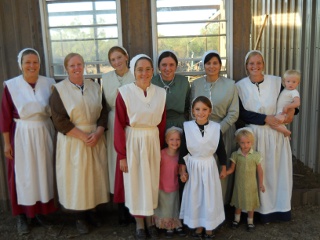 And so, while the men worked on the cottage, the women were helping out in sewing new outfits for the Bunker family. In the end, there were several pairs of Amish broadfall pants and dresses, and other items, completed or at least started: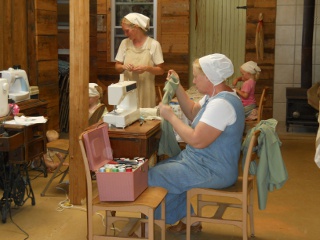 Even the young ones were helping and learning the "ropes," so to speak:
Here's poor Amish girl Ella being forced to wear a headcovering and bear under the burdens of living agrarian life, probably disciplined often, and socially undeveloped, as she learns sewing, a duty which she'll probably have to laboriously toil under to clothe her family one day. She looks like she's really sad about the prospects: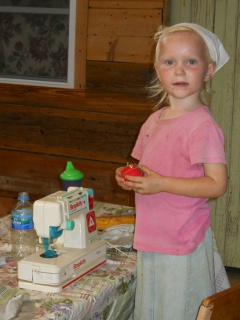 Oh, wait…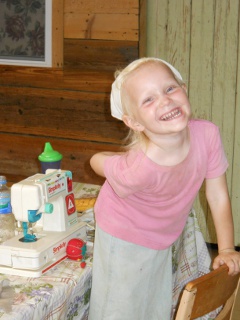 All in all, it was a wondering, even joyous, time of fellowship and community here at the Ranch. We are thankful to the Lord for the teacher He has granted us, and for the opportunity to do a little something back for him and his family; and we pray He glorified Himself through this, in the heavenly realms and here on earth, and in demonstration of what we pray is God-granted love for Him and for each other. We're also grateful to God for granting the provisions He has to the Bunkers for allowing their homestead to be furthered, we pray for Christ's glory and the benefit of His Church.
— David