Back in the Spring, we got a nice bit of rain; and I thought perhaps it might rain enough to be able to plant some tomatoes (we certainly didn't have enough water for a full garden). And so, I planted them. Well, you probably know the rest — we've had the worst drought here in 50 years (or more) this year. However, we've been able to limp along most of the plants through it all.
A couple of things we did to try to help was put hay in the bed in which they were planted to help keep moisture in; but that didn't seem to be doing enough to help, with over 100 degrees F every day for month on end. And so, I thought perhaps if I could get them in the shade it might help, as I heard tomatoes do better in some form of shaded area than in the direct Texas Summer sun.
I wanted something easy to move and quick to build, and so I went with 3/4″ PVC pipe as a frame. And then I just started cutting and assembling.
Here is the corner. In order to even make it, given the fittings available, I had to get a 3-way corner where one was threaded 1/2″, and had to add a threaded 1/2″ male to 3/4″ non-threaded adapter: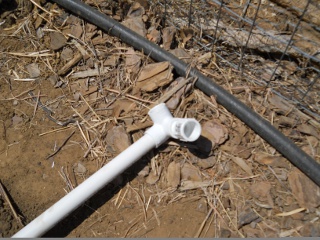 Here's one side built. I thought I'd try not gluing the joints at this point, as I wanted to be able to take it all apart easily to be able to store in the barn: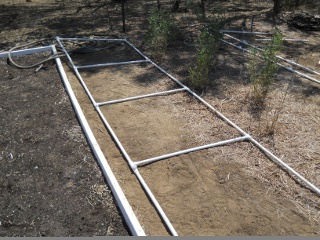 And here is the side with the top pipes in place: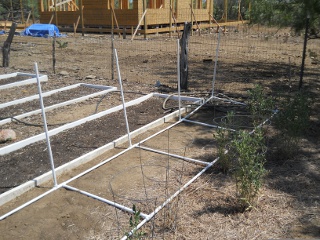 Here is the second side: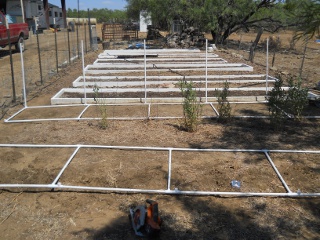 And the complete frame over the bed:
Not thinking it through very well, and so I didn't have to try to find shade cloth, I was originally going to put window screening on top; and when I rolled it out, I realized it let in a lot of the light, which makes sense, given it's used to see through clearly in windows and screen doors (duh!). And so, in order to expedite the process, I just placed on top of the frame a couple of blankets and used clothes pins to hold them in place: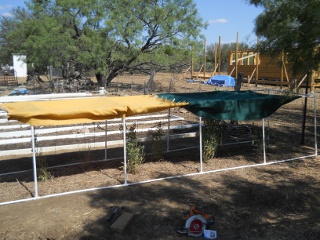 It seems to have worked not too badly. The wind has tossed it all around a couple of times, and we added cinder blocks to hold down the frame, which seemed to help; and because I didn't glue it together, it would lean some the way the wind was blowing; but all in all, it at least brought some shade to the garden bed, and should have helped keep the soil a little cooler.
As Sue mentioned in a previous blog post, we'll see what happens with the tomato plants as the weather gets cooler. We lost one plant early on in the Spring, and have lost it appears maybe two more since then. The rest have even survived an attack of blister beetles earlier in the Summer, where they ate almost all of the leaves; but the tomato plants bounced back.
We're grateful to the Lord for granting provisions to be able to tend the garden and even keep some of the plants going through the drought, and we do pray that God might grant some tomatoes this Autumn season.
— David