Originally in the house design, I had intended to put dormers in the roof below the interior ceiling. This would allow light and air circulation into the living space of the house through the roof. However, upon reconsideration, given the planned roof design, and after receiving advice, I decided to put up "pony" walls — short walls that in our case would contain windows. The porch roof would come up to the main walls below the pony wall windows, and the house roof would be above them; this would allow for even greater light and ventilation, and would be easier to implement.
And so, after the house exterior walls were complete, the man in the group who's been helping me with the house started in on them.
Here are some of the initial framing pieces in place: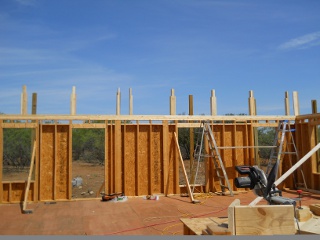 And here's a picture of a corner: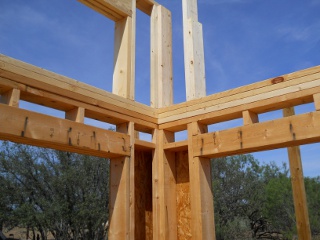 The following are a few pictures of the pony walls with the window headers in place. I decided to use 2×10 headers with 1/2″ OSB in between to hopefully make sure the weight of the roof would never sag the windows (I had originally thought perhaps to use 2×8, but in our local store where I bought the wood, the 2x10s were not much more expensive plus added that extra 2 inches of strength):
And here they are completed…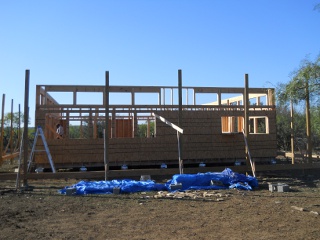 …and then with the OSB siding in place. These OSB pieces were nailed into the main wall as well, which tied the two walls together:
And finally, some tie straps were added to further secure the two walls to each other: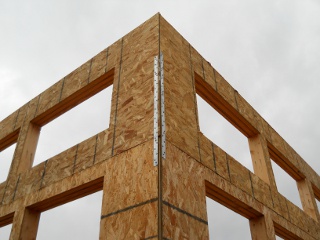 The man who has recently moved down with his family and is helping me has worked construction before, so we're thankful to the Lord for his advice and assistance. And we thank God also for continued provisions and progress on the house. We pray one day it'll be a welcoming place for meeting in fellowship with the brethren.
— David