It was a dark and, well, dry night because of the drought……..
It was a night like any other — I had to go down into the root cellar to grab a few things for the evening's supper. I always wear my head lamp to see better in there and to keep my hands free…that's what I do.
But something was different this time as I pulled open the large, heavy door…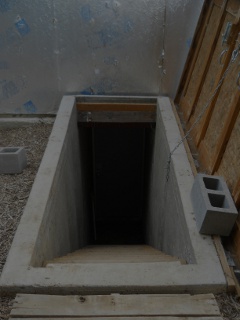 …descended the steps into the hard, cracked earth…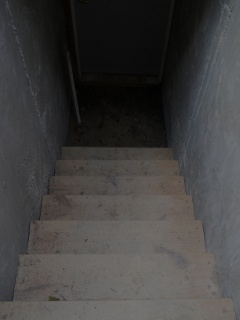 …and opened the non-creaky door into the pitch black room….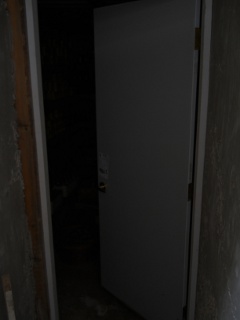 The last time I had left the root cellar all of the jars and cans were neatly stacked and in order. It was nothing special — it's just the way I left them.
But this time……..this time I warily stepped over the door threshold and gasped as my eyes met with jars toppled carelessly on top of each other: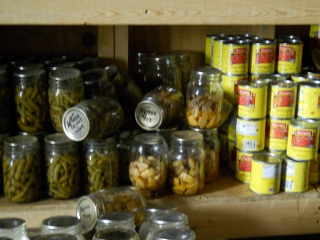 And cans that had been ruthlessly knocked to the ground……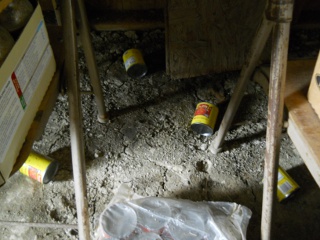 Now, having grown up in California, I would normally have said, "Oh, that must have been about a 5.2 on the Richter scale" and thought nothing of it. However, where we live in Texas has virtually no seismic activity, and even with the sonic booms we get around here that shake the ground beneath us, I skillfully deduced that some "one" — or some "thing"!! — must have caused this. Who or what could it be??????
AHA!!! A clue! It must be someone who left a long, skinny purse or boot behind! I was now hot on the trail to find the perpetrator and was impressed at my amazing talent for discerning clues: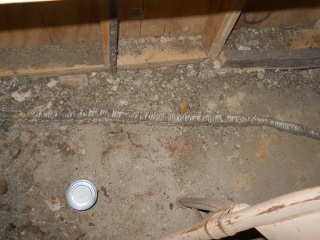 Upon looking around for more clues, I noticed a strange-looking fellow on top of the cans of corn appearing very comfortable and using them as a bed. Maybe he had seen something along his travels through the root cellar and had the information to help me break this case wide open! I asked him if he knew what might be causing all of the ruckus upon which I had just stumbled. I couldn't believe the bloke's rudeness I encountered. He didn't even turn his head to look at me, nor did he even acknowledge my existence!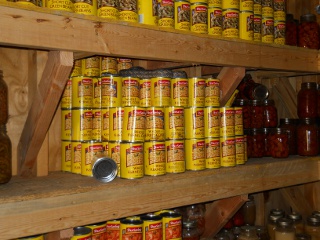 I stepped closer and asked him again. Nothing! He just stuck his tongue out at me — how rude! His silence taunted me — perhaps he had the information I sought, and I was this close to finding out from him who the culprit was, but apparently I would receive no help from the likes of him. I looked carefully around the room for any other clues, however insignificant, that might help me solve this agrarian mystery, but to no avail: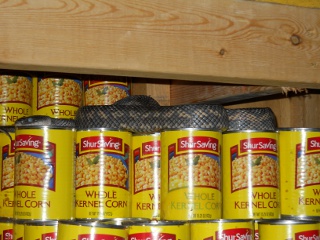 With nothing else to go on, I left the root cellar that night, mystified as to what might have happened; and the questions remain to this day. I still wonder if the fellow I met down there knew something. Oh, well, I guess I will never know what caused the…….
thrilla in the cella'……!!!!
Susan