From our garlic harvest from last year, we thought we'd try replanting the cloves dried and preserved instead of purchasing garlic.
Here are the dried garlic stalks from last year: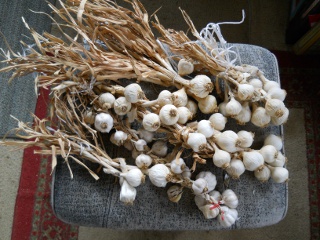 And here are the cloves soaking in preparation for planting (here is how we did the garlic preparation last year):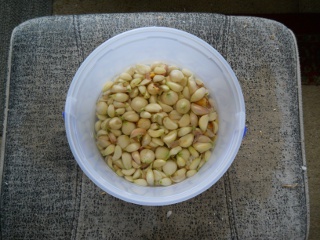 We got a bit of a late start, but here are a couple of current pictures of the growing garlic. I would that more of them had sprouted; but we know, as it is spiritually, that all that can be done by man is planting and watering, and the results are God's, in accordance with His will:
1 Cor 3:7 – "So then neither is he that planteth any thing, neither he that watereth; but God that giveth the increase."
We're grateful for the opportunity to try to grow our garlic perpetuating it from the land only, and for the continued health benefits of being able to have garlic, and we pray that the Lord might grant a harvest in due season.
— David