So, a little over five months ago, Sue saw Minnie, one of our does, with her hind-end backed up against the fence, and one of our bucks, Shatner, her sire, trying to perform his male duty. From a distance, it looked like he was able to accomplish his task — through the fence; but after Sue told me, I just couldn't see how that was physically possible. But over the past couple of months, we saw Minnie looking pregnant; and I believe I felt one of the kids through her side.
Well, about a week and a half ago, I was looking over at the goats from our orchard and saw a black and white goat laying next to Minnie. I thought, "Wow, Minnie and Adeline (our black and white doe that is in the same pen with her) are sure cozying up." But then I realized that the goat next to Minnie had long, floppy ears, whereas Adeline has the tiny LaMancha ears.
I ran up there, and sure enough, Minnie had given birth…to twins — a male and female.
Introducing Ralphie and Alice. Here's Ralphie: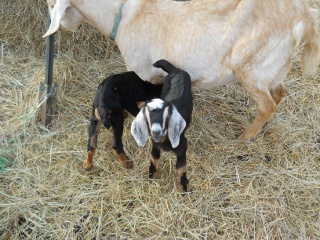 And here's Alice: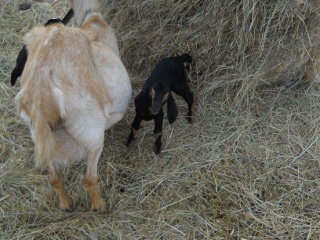 And them together: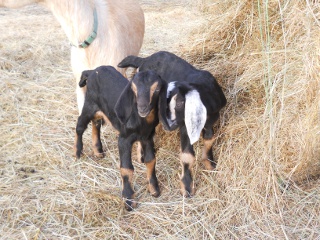 And here is a video of them a few days old:


Although the inbreeding situation wasn't what we had planned, we are thankful to the Lord for the new provisions, and that they appear to be healthy, and for the safe and healthy delivery for both Minnie and new kids.
— David