Once the house trusses were installed, it was time to start covering the roof. In order to allow maximum air flow in the attic area, I decided to add vented blocks to each space between the trusses. Here is how our house-building helper designed them, cutting them and chipping them out with a chisel. This is the back side: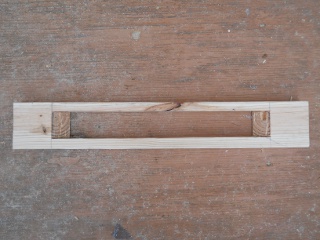 And this is the back side with the screening in place. We used aluminum window screening: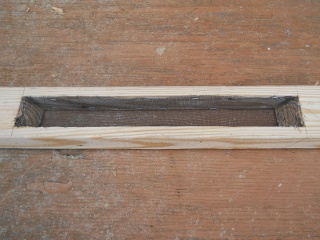 And here is the front side: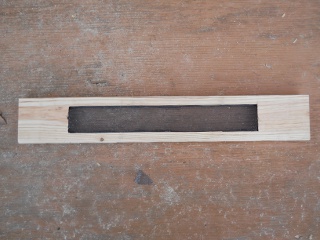 And here are the vented blocks installed:
Then, it was time to add the gabled-side overhang, which was for two feet overhang. First, the 2×4 braces were added by cutting into the top of the trusses notches to hold them; and then the 2×4 braces were installed:
And here is the overhang fascia added: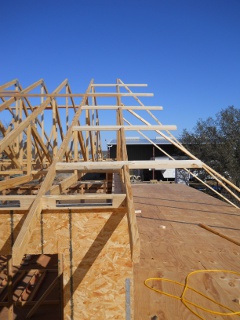 Then, it was time to add the covering surface that would go under the main roofing material. The plan was to have radiant barrier OSB (OSB that has aluminum foil on one side), which helps reflect heat, for most of the roof area, but use CDX plywood for the exposed overhang places: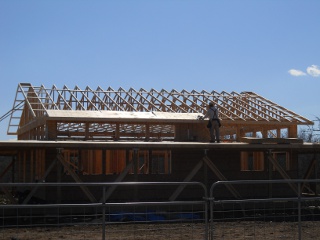 And here it is complete: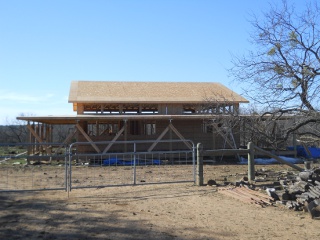 This is what the roof looks like from the inside of the house: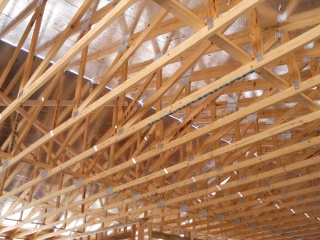 Finally, the gabled end trusses needed their underneath siding, which again were covered with radiant barrier OSB: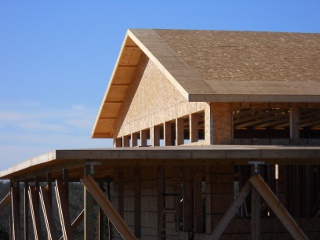 And here is the inside look at that: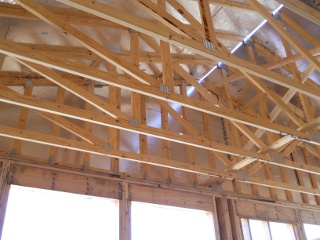 Finally, thanks to one of the kind listeners to our teacher Mr. Bunker's Internet radio show helping us out with some truss bracing information, in order to prevent them from "racking" (where the trusses basically can domino over) we added X-braces along the center posts of the trusses, on one side running from the high end of the gabled truss to the lower part of the internal trusses, attaching to each truss as it goes, and on the other side running low to high; and this was done for both gabled ends: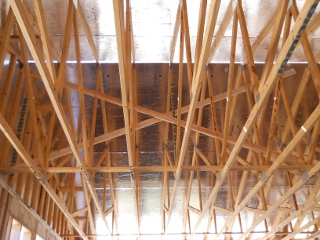 We are thankful again to the Lord for His provisions for the house, and for the continued progress.
— David