Mr. Bunker's been keeping his grullo (grey) pure Longhorn bull, Manolete, corralled in his homestead area. Here is Manolete: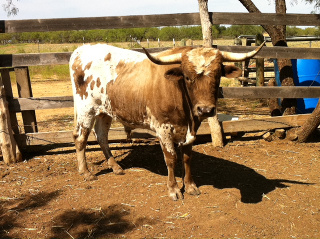 Well, he's there most of the time……
One day he got out, and I guess pretty much bee-lined to Rosa, our pure Longhorn cow.
And so, nine months and about a week later, it was confirmed that Manolete had done the job, because sure enough, Rosa gave birth! He's a little bull calf, and we decided to name him Rufino, which means "red-haired."
Here he is with his mama: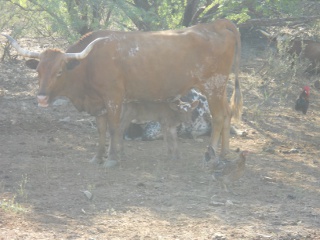 And here is his video (I apologize for the shakiness — it's a little less so at the end):


While we've had to liquidate a lot of our cattle, and have decided to not breed for a while to keep the herd count low, to try to allow the land to restore some if the Lord wills, we are thankful for this not-so unexpected gift from Providence. We thank God for the safe and healthy birth of Rosa and Rufino!
— David